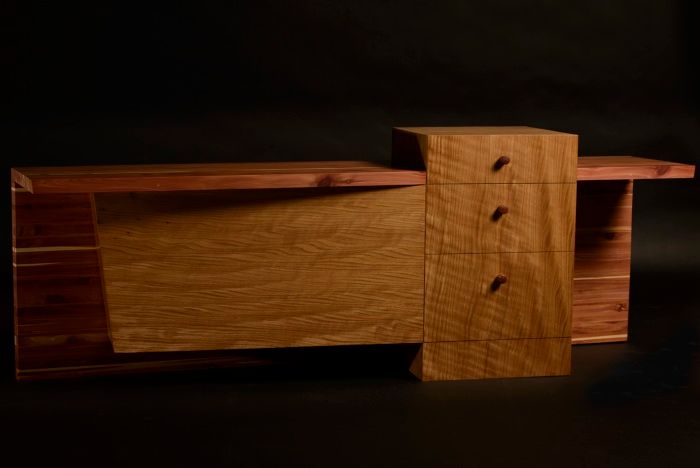 Commissioned in 2012 by client for private residence in Maryland. Although initial inspiration came from more traditional Tansu cabinets, some would say I have used the term incorrectly, I retained it to give a nod to root idea. Constructed using 15″+ wide White Oak and laminated varying widths of aromatic Cedar. No metal fasteners were used, but for glue, hinges and lid stay it was built entirely with the two wood species listed above.  Cabinet is finished with Danish Oil, the drawer interiors were left unfinished to take advantage of the aromatic cedar.
Cabinet features three drawers and a chest
Aside from being a great way to utilize fall off, laminating wood into panels can produce qualities that joining larger planks can't. Strength can be greatly enhanced through process and because normal grain patterns have been cut and shuffled, an entirely different look is achieved.
Drawer sides and bottoms have also been laminated.
After not being able to find a lid stay that I was happy with, I created this retractable one.