Gallery
Pallet Wood Recycling: Patio Table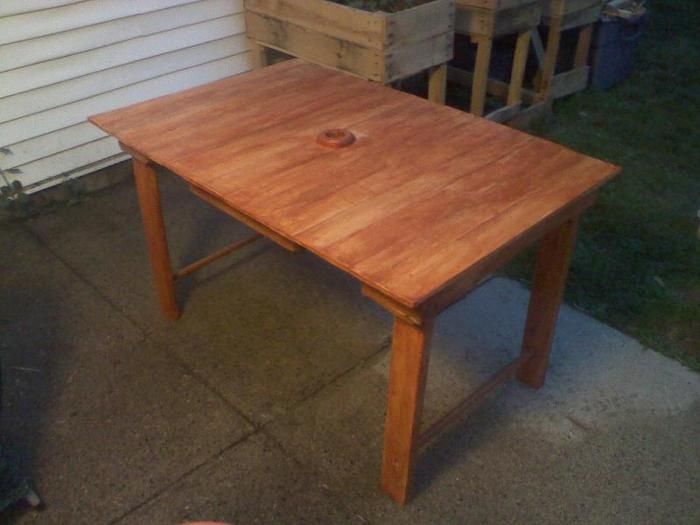 Hello All,
To see more of my work and read my blog, visit:
Recently I have set up a great deal with a local store to get their used pallets for free and all I have to do is pick em up. So I decided to start a blog about my work, but I wanted to bring each project by itself as well.
So as you see from the gallery I have built a rustic patio table and bench set with pallet wood. At first it was a little bit daunting deciding how I wanted to build the table and how it would look because I did not want a typical picnic table design. So after a few drawings I went for the design you see below. I started it out with retrieving the wood and making sure I didn't destroy the pieces in the process. I picked out each piece that I used for this project from like pallets that had similar dimensions and wood type.
THIS IS WHERE A PLANER & JOINER WOULD HAVE BEEN GREAT!But alas I don't have either one yet. So I made do with my hand saw, skill saw (7,1/4), BD Hand Sander, Drill and Titebond III glue (I may consider using liquid nails in a future project).
After I sanded and glued the top together (using straps as a makeshift clamp… don't have those yet either) I put together the top base and legs. I have to say it took alot of sanding to get it down to an acceptable flatness before I could weather proof and stain, but I am very happy with the top as it retains a rustic feel to it. And after some testing the water beads up very nicely.
The benches were much easier to assemble and look great. I wanted to inlay the seat boards but leave a rounded lip just above the line for the side boards.
In the end with much more practice I can see alot of great, quality projects with pallet wood. Check out my blog on blogger at: http://blogspud.blogspot.com/2012/07/pallet-wood-patio-table-recycling-at.html and here on lumber jocks: http://lumberjocks.com/craftedbyethan/blog/30975