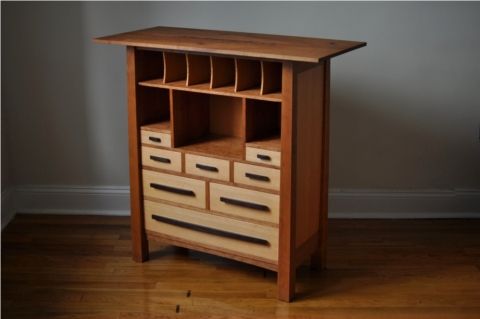 A cast–iron Japanese teapot inspired this chest of drawers. The teapot rests cozily in the central cubby, while small teacups perch overhead in smaller ones. Drawers below hold necessary accoutrements, including tins of favorite teas, utensils, and small towels.
The top is a solid slab of cherry, sliced where two branches flowed together, creating supple undulations of grain.
As the goal was to create a balanced, calming form, the rest of the piece is crafted from quartersawn cherry and vertical grain fir, resulting in clean, simple lines throughout. The side and back panels are sawn from the same board and bookmatched to further this effect.
Other design and construction details:
Traditional drawer construction, with dovetails front and back. The dovetails follow a progression in size and number relative to the height of the drawer.

The drawer sides and bottoms are made from solid quartersawn maple, which reduces wood movement and in turn ensures smooth operation year-round.

Drawer runners are hard maple.

The drawers are kept flush with the front of the cabinet by means of integral drawer stops.

The dark pulls are hand-shaped from wenge.

Fir dust panels are fitted between each level of drawers.
All the work involved in making this cabinet, including resawing panel and drawer parts, was accomplished entirely by hand.
Tea Cabinet, 2011, rear view
Tea Cabinet, 2011, drawers
Tea Cabinet, 2011, drawer interior