Gallery
"Lazy Stephen" Tool Turntable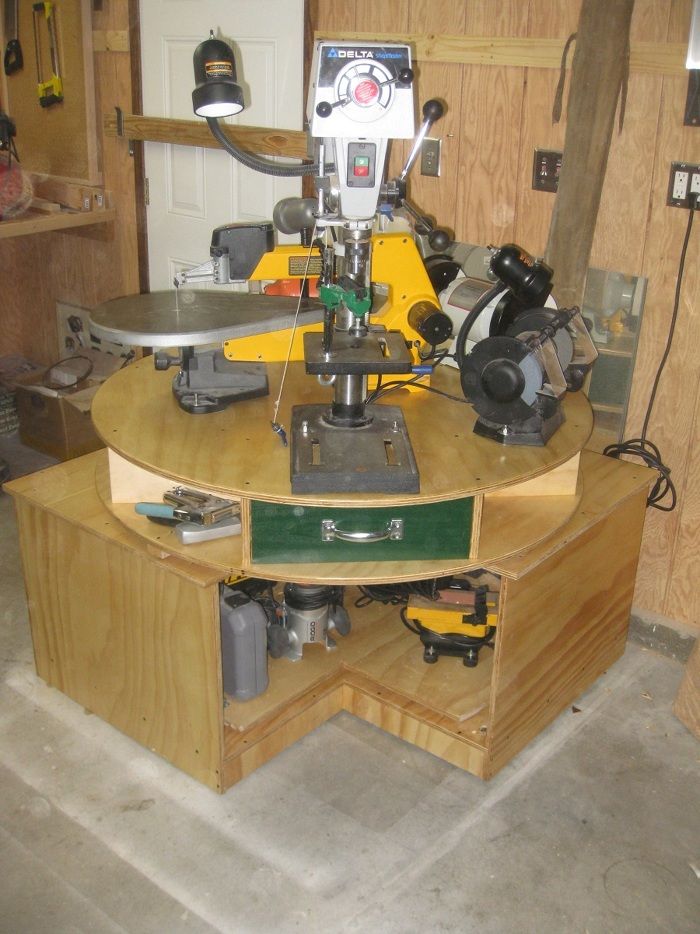 I call this the "Lazy Stephen". It's a modified version of a turntable plan I came across. I don't think I have followed ANY plan to the exact "jot or tittle". I tend to find ways to wrest the project to my will and make it do what I want. After all, we have the tools to do it, right?
Enjoy!Mark
The "Lazy Steven". Four drawers and four shelves for easy access to tools and less mess all around.
The lower turntable for addition tool storage. Also on roller balls.
Barrel bolt and stopping block to keep the lower table from getting any funny ideas :)
I'm a little crazy about grinders for speed and efficiency. Quick and sharp are the name of the game here: (left to right) 6" Delta, 8" Woodcraft 1/2 speed, 8" Central Machinery with hardboard grit and honing wheels for glassy edges. I have yet to install the turning tool sharpening jigs.
When I made the decision to run the power cords through the middle of the table, I realized I had to keep them from twisting. I decided to cut two opposing crescent... er...well, "smiley face" shped holes to allow the tables to spin without cutting the wires. This stopping block prevents the table from turning all the way around. Problem solved!