Gallery
My students works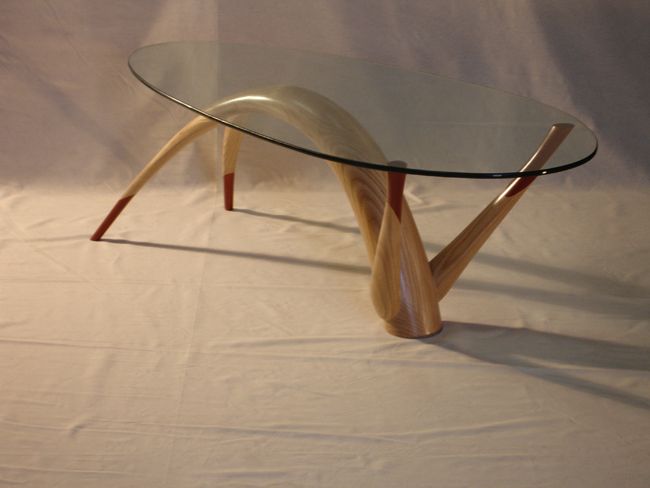 Hello everyone; I've been absent from these pages for a while as I've been shepherding my students here and I feel like a proud father. I'm showing off a selection of their work all designed and produced by them, with only technical support from me. Andy Gategood from Australia designed and made this athletic low table with the glass top. It was a surprise as he's never made anything in his life before but his designs and freehand drawings are refreshingly original. The table is made from ash and palo rojo.
Next is Cedric Servant's flower table, 36″ high made from a richly coloured Padauk and french polished to perfection. The top has a raised edge above the perfectly flat surface and is carved from a solid block while the legs have a beautiful profile and section worked by hand with a spokeshave.
Next is a another table ( I don't know why they all like tables…) designed and made by Manuela Plossu, like Cedric, from France. She too has never made anything before but she is a very accomplished artist like her father. Her table is made from Padauk, with zebrano and ripple sycamore, and shows her sense of humour.
And lastly we have Neil Pendregaust from the UK; this is his 4th short course with me. This time he spent two weeks making this beautiful jewellry case from ripple sycamore and walnut, The outside was carved to resemble a draped cloth, and the inside resplendent with a tray and a lovely piece of burr walnut to line the lid.
The three lads are now in business or starting up, and Manuela is in Paris studying to be a Cordon Bleu chef. Was it something I said…?
Manuela's telephone table