Gallery
Woodbridge Basement Workshop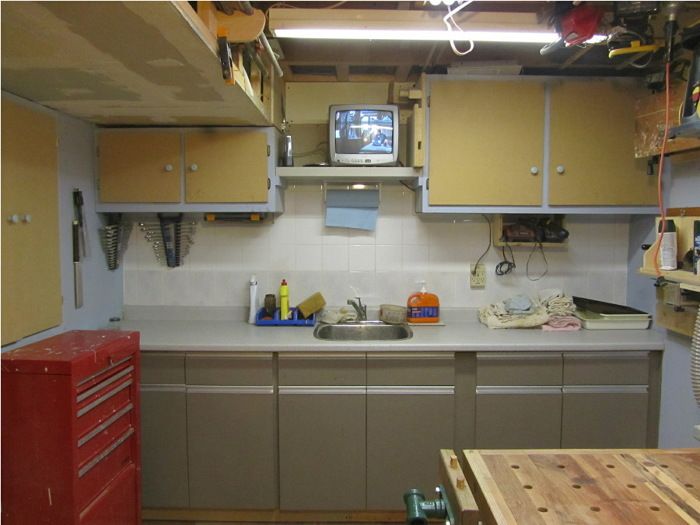 I built this basement workshop about 10 years ago and never got it completely finsihed. The cabinets still need to be painted and the drywall was never finished.
The shop is 9 feet wide by 20 feet long. At one end is a cabinet (used office cabinets) and an old sink from the cottage. The overhead cabinets contain sand paper, glue etc and small power tools in the other. I have included a small TV .
A few years ago I installed a small 1 hp dust collection system with 4″ diameter piping. I have a large port connected to my table saw, one for the chop saw and another for the radial arm saw. Two 3″ ports with a length of flexible hose are used as required to connect to the bandsaw, thickness planer, joint, router table, drill press and oscilating spindle sander. I still generate a lot of dust, but it works much better than just using a shop vac.
Along the far side of the shop is a row of cabinets that hold an old Dewalt 10" radial arm saw, a 10 inch mitre saw and a benchtop drill press. I can easily cut 12 foot long boards at either the radial arn saw or mitire saw. The fence is aligned along the whole length. Underneath is more storage, that includes a place for my planer and compressor which pull out on full length drawer glides.
All of the countertops and the rolling shop cabinet/workbench are at the same height as my table saw which allows me to handle larger sized pieces of wood at the table saw, resting them on the countertops or using the rolling cabinet as an outfeed table.
Since storage space is at a minmimum I have a potrable router table and spindle sander hanging on the wall. When needed, I take them down and set them up on my workmate. Also standing on end is an inexpensive lathe.
Along the other wall of the shop is a small 4" jointer, a 15 inch bandsaw and a 10" Delta Construction saw. When I use these tools I roll them out and once finshed need to move them back against the wall. The table saw is over 20 years old and did not have any builtin dust collection. I built a plywood box and chute and attached it to the underside of the table saw to allow me to connect it to the dust collection system.
Wherever I have room I have clamps hanging from the walls, hang up my chair, step ladder etc.
I also have a rolling shop cabinet which provides additional storage and I have built a two inch thick workbench top with two vices.
Sink, counter top, storage and TV
north wall radial arm, chop saw, drill press and dust collector
South wall w jointer, bandsaw, table saw, storage, ckamp racks and grinder
wall hung router table, spindle sander and rolling shop cabinet workbench
under cabinet storage for thickness planer and compressor