Using Steel Accents on a Walnut Desk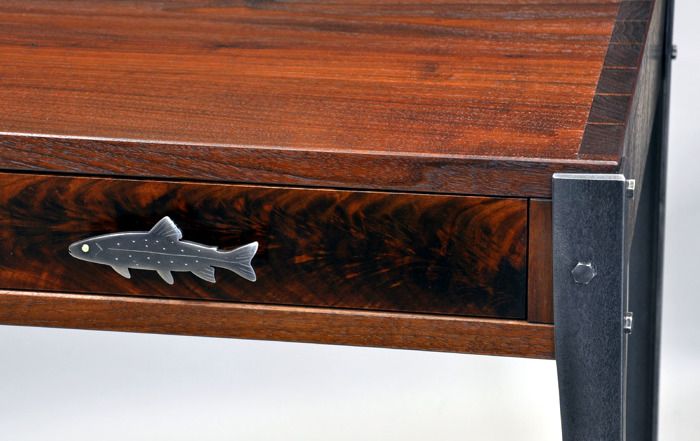 We all had a great time getting this walnut desk together. It was constructed for a favorite client and is the latest addition to our 'bethlehem steel' series of pieces. The houndstooth dovetails were a big challenge: Sam and I had to adjust the leg shapes a couple of times in the process to make them 'work' with the piece, and the actaul process of dovetailing something 26-in. wide and 62-in. long took a little figuring out too … it's really just a big drawer with little drawers inside it, but it took a minute to come up with the best approach.
The piece was designed by all of us; woodworking construction by Will; metalwork by Sam and I … and, there's a nice, interesting secret compartment too, but if I told you about that, well, it wouldn't be a secret would it? More pictures and info and a (very) short video of part of the dovetailing process on our dorset custom furniture blog.
the front corner with hardware and steel legs by sam mosheim ...
the whole desk .. woodworking by will mosheim .. design by dan, sam and will and the client
a one board (net 26" wide, from irion lumber) top ... first milled flat on the cnc. it was pretty flat when we got it, but too thick for the design and too wide for our planer
the cad drawing/sketch that we started with. the leg shape and some of the other details were changed in process ..
the dovetailing pattern we chose was a 'houndstooth' variation that created some variety and interest across the 26" wide expanse .. we cut the tails on the short pieces that we cut off of each end of the top so the grain matched around the corners. we had to build a 'wall' that we screwed to the face of the workbench to support the top while will made the cuts for the pins.
it was tricky marking the pins because of the thickness of the stock (.81)
we made a set up for the multirouter to clear the waste between the pins ... there's a short video of that process on my blog
we put it all together; didn't like the legs the way they were originally conceived and subsequently changed them to more closely mimic our wood 'egypt leg', a form we have been using for over 20 years ...
a 1987 'egypt' leg in my dining room
the drawer faces and back panels were laid up with shop made .1" walnut crotch veneers
the trout shapes are 3/16ths" steel, cut on the waterjet, from cad drawings we made. sam added the details cold with punches and chisels added the rivets and stems and then blued them with a cold blue patina ..