Gallery
Oak Built in Armoires with dresser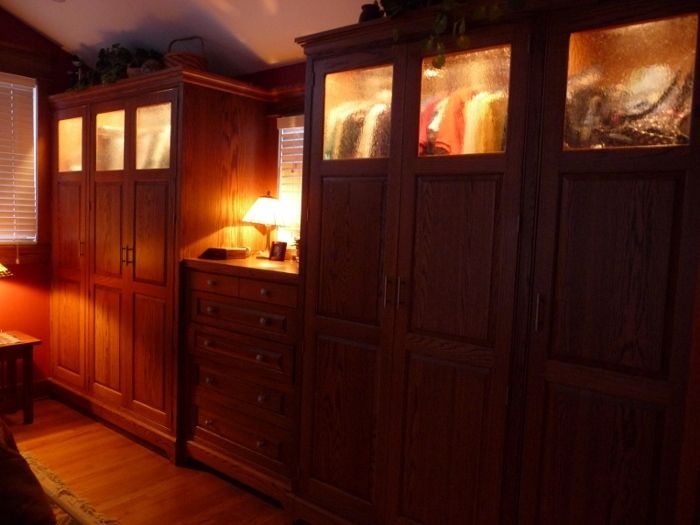 Originally, there was a single 5 ft. long closet with bi fold doors and a small half bath that stuck out 5 ft. into the 13.5 x 18 ft. bedroom. The outside wall was so cold in the winter it created frost and mold inside the closet corners.
We reworked the window layout, installed a 6 ft. sliding door, vaulted the ceiling, added 4×8 recycled beams, and installed recycled oak flooring.
Not to mention: new insulation, rough electrical/media/ alarm, recessed cans, ceiling fan, new drywall, new 4″x3 cement siding, ext. trim including cedar shingles at gable, and a new roof/ ridge vent.
Also: Jacked up addition 1-1/2″ to re-level, add huge bolts to existing foundation to prevent further settling, double up 2×10 floor joists, Glued 2″ x2 on bottom of 2×6 rafters to increase insulation space and make room for cans, new t&g sub floor, replace duct work, demo old cast iron plumbing, regrade dirt to shed water better, new gutters, complete int. and ext. paint job, landscaping, deck, etc.
There are puck lights and outlets inside with a 3 way touch switch attached to the middle cabinet hinge.
There is a heat supply vent under the dresser that also channels heat up the back to keep cabinets from getting cold.
Hidden drawers (lined with 3" cedar closet liner) in the toekick.
The dresser drawers are 3/4 solid maple with dovetails. the top drawer has dividers and is lined with faux seude leather. The lower drawers are lined with 3" aromatic cedar.
13.5 ft. long, his and her Armoires have double rods, adjustable shelves, pull out belt and tie racks, a safe that is bolted, and an access door to the crawl space.
The 1/4 sawn Oak head board is built in to the window trim. The windows, 1/2 round, and 4x8 beams are recycled from old jobs.
I made the 5" oak cove crown with my table saw.