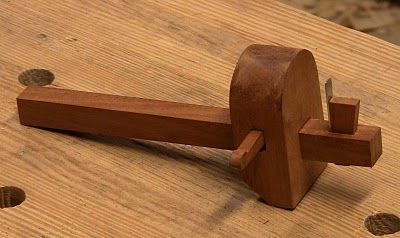 The gauge is based on Dean Jansa's copy of one in the Seaton tool chest. The design was a pin marking gauge, but I decided to make a cutting gauge after seeing how smoothly they work.
The bowsaw is the Gramercy Tools design, using their hardware kit (pins and blades).
You can read about the full build of these projects with hand tools, including detailed pictures, at these links: gauge and bowsaw.
Cutting gauge in mahogany.
Bowsaw in Honduran rosewood.
Roughing out the curved arms of the bowsaw.
Shaping the curve of the gauge head.
A different grip I saw used by Steve Brown. Very smooth, offers good control.