Gallery
Sailboat Cabinet and Table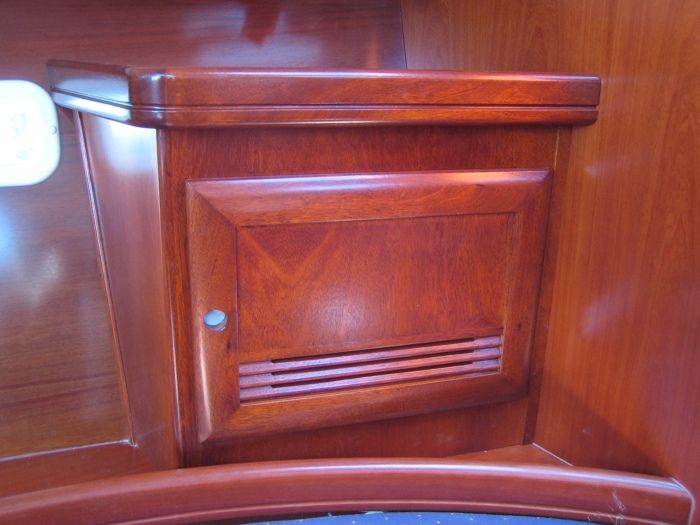 Customers for whom I built a wall unit asked me to build a small cabinet and a larger table for their sailboat. I had zero experience with boat furniture but they did not mind being guinea pigs.
Both units are made of Okoumé marine plywood and solid butternut. That was the only marine plywood I could get locally and found that butternut matched pretty closely the colour and grain of the plywood. See the fifth picture before stain was applied. To match the colour of the existing woodwork I used a custom mix of aniline dyes.
The cabinet measures 20" wide x 20" high roughly. It has a parallelogram shape where the sides meet the front 16 deg off from perpendicular. That was done to maximize the size given the geometry of the surroundings. The sides are angled back to follow the shape of the back bulkhead. There is no back on the cabinet per say. At the top the cabinet is 12" deep. Small mouldings are applied to hide gaps between the unit and the bulkheads. The top moulding and door designs were copied from existing cabinets (see the fourth picture). The top coat is exterior grade oil polyurethane.
The table is 42" square and is supported by the same mechanism used for the previous, smaller table. It has a couple leaves that can be dropped down to make room when the settees are used for sleeping. The one on the left is 6" wide and I used these table-leaf hinges. At 15" wide the leaf on the right is too wide for this type of hinge so I used good quality brass door hinges in conjunction with these support arms. The top coat is a poured two-part epoxy product called Nu-Lustre 55.