A Guild of Vermont Furniture Makers Show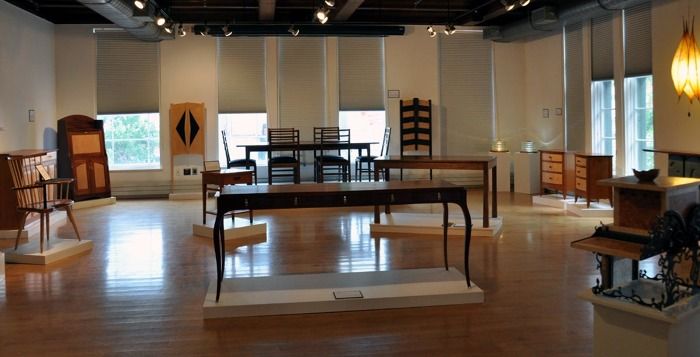 The information below is from a Guild Press release regarding a furniture show that opened in Burlington last Friday night. The space is on Church Street in the Firehouse Gallery next to City Hall. It's a wonderful venue and it looks like the members who are exhibiting stepped up to the plate for this one …. Check it out if you find yourself in Burlington … It runs through this Sunday …While you're here, also check out the New Guild Website at the link above. Bigger photos on my dorset custom furniture blog
"The Guild of Vermont Furniture Makers invites you to attend a special exhibition titled "A Step Beyond: Collaboration and Innovation, New Work from the Guild of Vermont Furniture Makers", to be held at the Firehouse Center for the Visual Arts, at 135 Church St. in Burlington, Vermont, from July 9th – 18th. An opening reception will be held on Friday, July 9th, from 5:00 – 8:30 p.m.
This show will feature collaborative work by some of the guild members who have
collaborated with other Vermont craft artists, incorporating materials like forged steel,mica, stained glass, carved slate, and LED lighting. It will also include pieces with newprocesses, approaches and techniques that are innovative to the individual makers. This show is part of the statewide "State of Craft" exhibits throughout the year, sponsored by the Vermont Crafts Council to mark their 20th Anniversary. The show will bring to Burlington the work of professional level fine furniture makers from every region of the state, and is the first time the Guild has held a major gallery show like this in Burlington.
firehouse gallery, church street