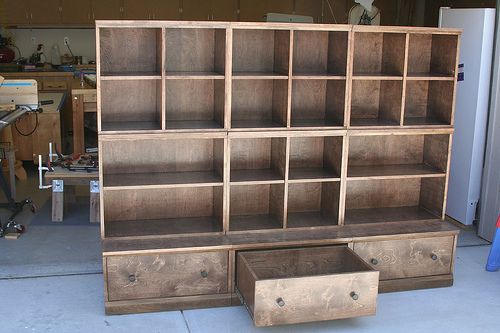 I thought it would be appropriate to share my first set of inside furniture and, while not as delicate as other box entries, it is a study in boxes to generate useful cabinetry for home use.
I designed this set of cubbies – tailored after a furniture advertisement that my wife found and challenged me to do something productive with all the tools and jigs I had built out in my garage. She felt that my time could be more useful on something that she and the family could use in the house.
The cubbies are really 9 separate boxes (3 drawers, 6 subdivided shelves/cubbies) that fit together in a variety of displays. For our purposes, they are assembled together against the kids "playroom" wall – but, could be 3 separate modules that could be installed in other places in the house.
The boxes were assembled from birch plywood, using biscuit joinery and homemade edge banding made from my bandsaw. The moulding was handmade from poplar, using my rip fence sled and jigs.
The entire assembly is glued together, without nails. The birch was stained, with a polyurethane "toy resistant" surface.