Shop Tips
Box Keeps Sandpaper Organized and at Your Fingertips
The secret is in the pivoting dividers, which allow easy access.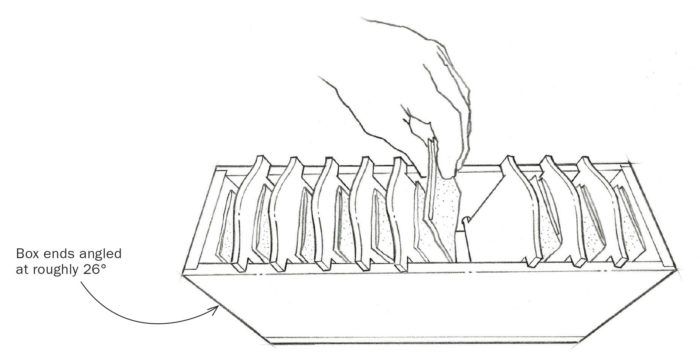 How often do you hunt through a drawer or box of sandpaper looking for a specific grit? This small tray will keep up to nine grits of folded sandpaper organized and accessible. I sized the tray and dividers for quarter-sheets of sandpaper (torn width-wise and folded in three) but you can size the box for sanding disks or other paper sizes.
The important part is the pivoting dividers, which are spaced 7⁄8 in. apart but open up to 3-1⁄2 in. for easy access. The sloped ends of the box are the other key. The only critical dimension for good pivoting action is that the tabs are roughly 7⁄16 in. farther apart than the centers of the pivot holes are from the top of the box. Also, note that the tabs at the bottom of the dividers have to be inserted in their pivot holes when you are gluing up the box.
—Larry Poore, Issaquah, Wash.