How-To
How to eliminate drift from bandsaw cuts
A sharp blade isn't the only answer to bandsaw drift. In this video Michael Fortune shows you two fixes to make your saw run true.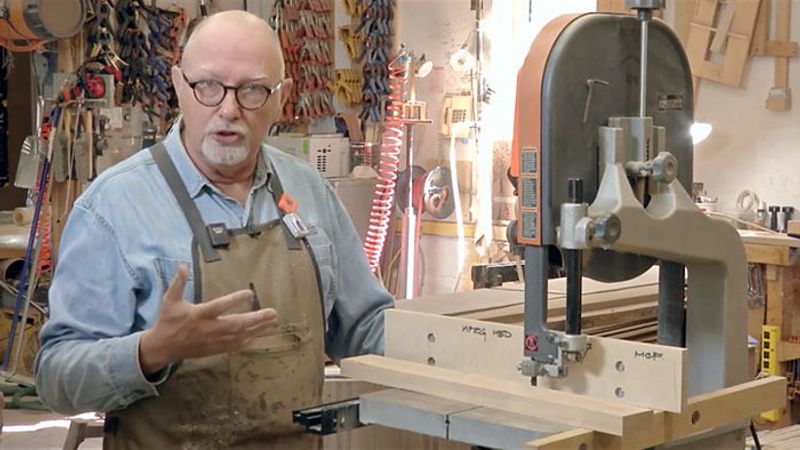 The bandsaw is easily one of the most versatile pieces of machinery found in a woodworking shop. It's also likely the most misunderstood. Michael Fortune has logged countless hours using his shop's eight bandsaws, and he knows how to get the most out of them.
One problem that many woodworkers face when using a bandsaw that has been poorly set up is drift. Many woodworkers think that there is no actual fix for drift, so they might as well accept it and work around it. Granted, adjusting the fence to compensate for drift will get you a straight cut, but it renders the saw's miter slot useless, because now the blade isn't aligned with the miter slot. Your saw came with a miter gauge, you should be able to use it. At the very least, you're going to want to build some jigs that will use the miter slot as a reference.
In his article, Five Tips for Better Bandsawing, Michael told us his recipe for getting rid of drift:
When I bought my bandsaw in 1974, I set the fence parallel to the miter-gauge slot in the table, and I haven't had to adjust it since. The reason is that I use the tracking adjustment on the upper bandsaw wheel to align the blade. A nightmare of fence adjustments ensues if each new blade is allowed to track differently.
Simply by keeping the centerline of the blade (regardless of width) in line with the centerline of the upper wheel, I am able to keep the blade aligned correctly at the blade guides.
The relationship between tracking the blade on the centerline of the upper wheel and having the fence aligned parallel to the miter slot should produce a kerf with equal space on either side of the blade.
Much has been made in books and articles of the alignment of the two wheels to each other. In my shop and in my travels to schools around North America, I have never found this to be a problem. Tracking the blade properly on the upper wheel has always been enough, except in the case of a severely damaged bandsaw. 
In this video, Michael takes you through the process step by step. From now on, as long as you have a sharp blade, bandsaw drift will be a distant memory. And now that your bandsaw is cutting true to its miter slot, you can use Michael's jigs for perfect bandsawn dovetails such as those featured in the next issue of Fine Woodworking.
More on FineWoodworking.com: