Blog
Centering the Festool Domino on Imperial Based Materials
Furniture maker Tim Celeski uses a set up custom-made set-up gauges to get around Imperial vs. metric measurement issues with the Domino system.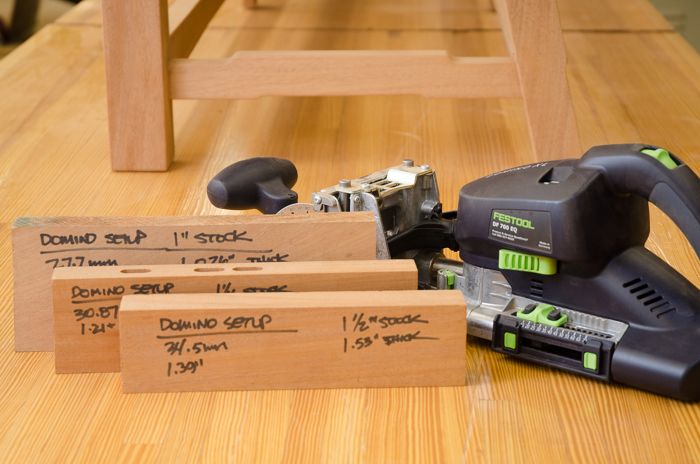 The Festool Domino is certainly an extremely useful tool for furniture makers. Both the DF 500 and DF 700 are great for making joints quickly and accurately. The DF 700, with its ability to make and use larger sized mortises and tenons, particularly stands out for furniture making.
But when I put the tool into use in my shop I quickly found a major problem. As a U.S. based furniture maker all the parts I make are Imperial (inches) in their measurements rather than metric based (millimeters). Both the Domino DF 500 and DF 700 are metric based. Though this is not a problem when it comes to the joints and tenons themselves in terms of mortise and Domino width, thickness and depth, it is a major issue when it comes to stock thickness. Both of the Dominos stepped height gauges are in increments like 15, 20, 30 mm, etc. But, when my furniture parts are 3/4″, 7/8″, 1″, 1-1/4″, 1-1/2″ etc., those metric settings on the height gauge do produce quite a problem.
The reason is this: Though, I often offset a stretcher's position on its mating piece like a chair leg or table apron for visual relief I usually prefer to center the tenons on my stretcher's thickness for parts used in tables, chairs, stools, etc. This allows me to maximize the stretcher's joint strength on what is often a small part and gives me flexibility in how the parts can be used in different situations –rotating and flipping parts for example. Plus, by being precisely centered on the part's thickness it increases the accuracy and consistency of the parts and makes it much easier to deal with angled stretchers.
The problem is that there's no easy way to reliably setup up a Domino so that it centers on an Imperial sized piece every time. The Festool Domino Height Gauge is set for metric based stops measured from the center of the bit from 15 to 50mm. Setting the gauge manually, rather than using the stops will inevitably lead to inaccuracies.
Festool says that it shouldn't matter as long as you make your mortises on the same side of both boards. Technically this is true and it's always a good practice to do this but there's many situations in woodworking where centering a mortise is necessary–especially when it comes to stretchers which tend to be thinner parts. Why not start with a solution that centers your mortise every time? So, how do you center the bit on a 1″ board for example?
After scratching my head for a while I came up with a fairly good solution that works for both the DF 500 and the DF700. I made up a set of special sized setup gauges that I use by setting the tool and the gauge on a flat surface and set the fence to the top of this setup block. The result is that the bit is centered on my Imperial based stock.
To make up setup blocks you need to mill up a piece of scrap to 15mm (the height from the base of the tool to the center of the bit plus 1/2 of the thickness of the board thickness you want to be centered on. For example, to center on a 1″ board make up a setup gauge that's 12.7mm (1/2″) plus 15mm for a total of 27.7mm (1.0926″). Yes, that's getting pretty precise for running through a planer. A thickness sander might help you fine tune the dimensions. In any case you need to use a precision micrometer to check your work. Measuring metrically is a little easier, too. So, plan on doing lots of testing so that you can verify that your setup boards are accurate. Once you can take two boards of the same thickness put a Domino in the mortise then flip one of the test pieces over and if the boards are flush you know that you're there.
To give you the dimensions for a setup boards I've included the chart below…
Festool Domino Set-up Boards
| | | |
| --- | --- | --- |
| Thickness of Stock | Set-up Board MM | Set-up Board Inches |
| 1-in. | 27.7mm | 1.0926-in. |
| 1-1/8-in. | 29.29mm | 1.15-in. |
| 1-1/4-in. | 30.88mm | 1.21-in. |
| 1-1/2-in. | 34.05mm | 1.342-in. |
So, how well does this setup board solution work? Quite well, actually. I use these setup boards on a daily basis in my furniture making. But, there is an even more elegant solution. A small company-Seneca Woodworking-makes add-ons and special parts to help with using both the Domino 500 and 700. They make special shims and height gauges for these tools which I'll cover in a follow-up post here at FineWoodworking.com.
Check out the gallery below to see photos of how the centering setup works.
More from FineWoodworking.com:
Furniture maker Tim Celeski uses a set up custom-made set-up gauges to get around Imperial vs. Metric measurement issues.
Celeski sets the tool and the gauge on a flat surface and then sets the fence to the top of this setup block. The result is that the bit is centered on his Imperial based stock.