Blog
Safety Manual: Handplanes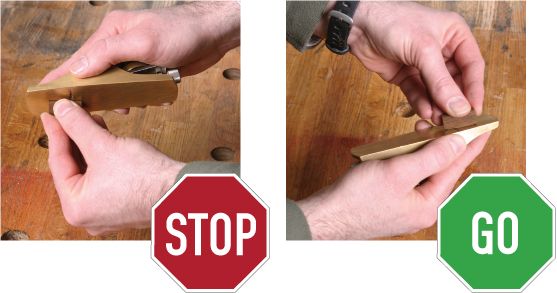 Like the chisel, the handplane is an ancient invention that has stood the test of time. It, too, is available in different sizes and shapes for different tasks. The block plane and smoothing plane (No. 4) are the two most commonly used types.
Essentially, a handplane holds a sharp blade at a fixed angle, with its tip extending very slightly from the sole. When pushed along the surface of a board, the plane takes a very precise shaving and leaves behind a flat surface. This is indispensable for surfacing boards, shaping corners, and leveling one item to another. A favorite specialty plane is the shoulder plane, which can cut all the way into a square corner.
While there isn't a lot that can go wrong when hand planing, the following is a list of safety precautions to consider:
1. Secure the workpiece before planing, either with a vise, clamps, a bench stop, or a bench hook.
2. Keep the plane iron (blade) sharp. You won't have to push as hard.
3. It is possible to hold a plane upside down and rub a small workpiece along its sole to trim it, but be very careful to keep fingers clear of the blade.
4. Use sandpaper to break the sharp machined edges on new planes to make them comfortable to hold and avoid nicks and scrapes.
5. Plane at the right height for you. Most hand-tool users place their workbench surface level with their fingertips when they are standing and letting their arm hang straight down.
Do you have additional safety advice to share about the hand plane? Post a comment below and help keep your fellow woodworkers safe.
Wrong Way, Right Way: When planing small pieces, hold the plane firmly and move the workpiece across the blade-not the other way around. If possible, anchor the plane against your body for stability.