Shop Tips
Storing and Dispensing Finishing Products
Fire safety is a big issue when storing, measuring, and transferring flammable finishes.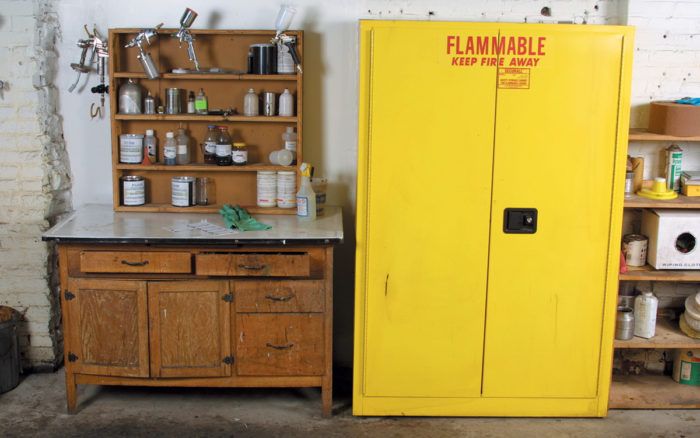 Flammable finishing products should be stored in a metal cabinet for fire safety. In fact, cabinets in commercial shops are required to meet National Fire Protection Association (NFPA) fire-rating codes. I recommend that cabinets in a home shop be made of at least 22-gauge metal.
To work with finishing products, you'll need to measure and transfer liquids, powders, and pastes. I use a variety of simple tools for this. Many can be purchased from online plastics dealers. However, I also routinely look for measuring items at drugstores and kitchen accessory dealers, as well as at beauty supply stores.
Transferring liquids
The humble ladle is one of the best tools for transferring liquids from cans, although hand pumps mounted on gallon jugs are also very handy. Squeeze bottles work well for repeatedly dispensing premeasured amounts of liquids. For transferring small amounts, I like syringes with tapered nozzles that can be snipped to dispense thin or thick materials.
Weighing
Weight provides a much more accurate measurement than volume for any material—dry or liquid. Standard triple-beam analog lab balances have been superseded by digital balances because the latter can be instantly zeroed out for efficiency and convenience. Balances are rated by capacity (expressed in grams) and readability (expressed in grams or fractions of a gram). If you routinely work in small amounts, get a balance that reads in 0.1 grams. A 200-gram balance with 0.1 readability is very affordable at just under $100. For measuring "rough" ounces (of shellac flakes, etc.), an inexpensive food or postal scale will do the trick.
Whenever you transfer a finish or solvent to another bottle, label the bottle with the product name and date. You can print out labels, or simply write on a blank label. When possible, cut the product and safety information from the original container and save it for reference.