How-To
Pop the Figure in Maple
A pro's tricks for enhancing maple's figure without overdoing the contrast.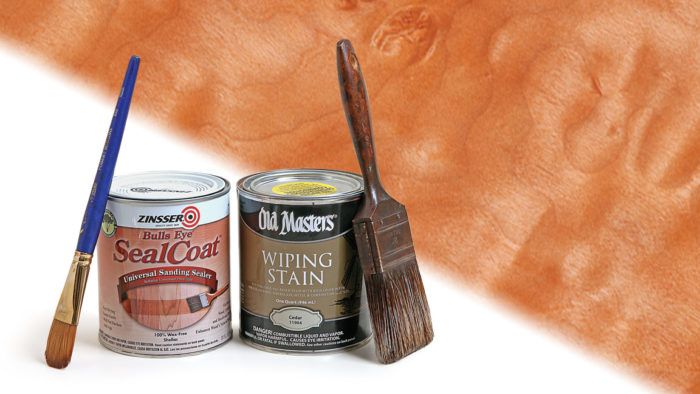 Most finishing articles and finishing books recommend dying figured maple to accentuate the figure. Dyes can do a fine job, but it's easy to overdo the effect, with the dye soaking deeply into the end-grain stripes and creating too much contrast. By starting with SealCoat shellac and following with my trick of using stain as a glaze, you get a more subtle effect that is easy to control.
1. Seal and Build Depth
Three to five coats of SealCoat shellac create a smooth, sealed surface for glazing.
Seal—Sand to 220 grit, then apply at least three coats of SealCoat. After letting those coats dry for three or four hours, scuff the surface with 320- or 400-grit sandpaper and apply two or three more coats, letting each one dry at least two hours before sanding. If the shellac gums up your sandpaper, you haven't waited long enough. Keep going until you see a gloss or sheen.
2. Use Stain as a Glaze
The oil-based stain makes a forgiving glaze, giving you plenty of time to work or even wipe it all off and start again.
Glaze—Wipe on Old Masters Wiping Stain in cedar, removing the excess with a dry brush as before. Arrange the glaze on the surface and create a translucent layer of color. Allow the glaze to dry for at least 12 hours before adding the topcoat.
Topcoat—Don't sand or rub the glaze; apply at least two more coats of SealCoat to lock in the color, magnify it, and add depth. Sand between coats and rub out the final one.