Projects and Plans
Vermont Maker Builds Stretch Settee
The 29-ft.-long, 203-spindle settee comfortably accommodates 16.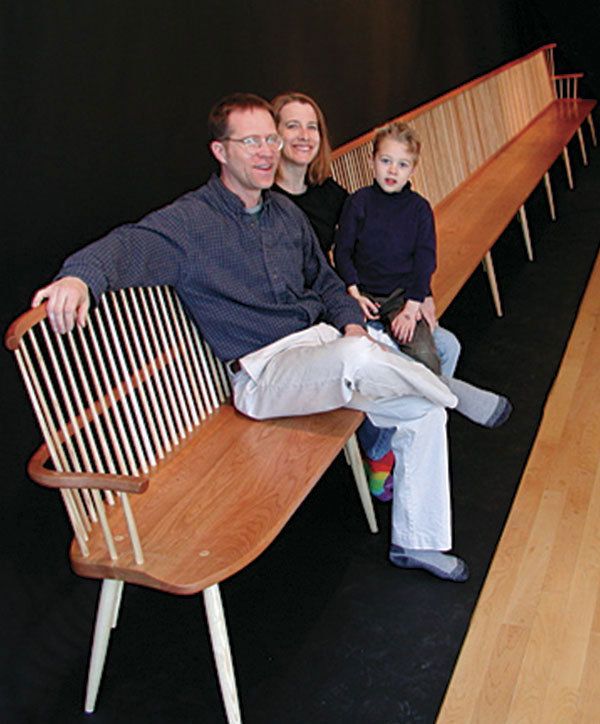 The Windsor chair has been around for nearly three centuries and has been made in scores of variations-from sack-back to comb-back and from writing arm to continuous arm. There have been Windsor high chairs and Windsor miniatures, Windsor daybeds and Windsor cradles, Windsor rockers, settees, and rocking settees. But has there ever been a Windsor settee long enough to seat 16 with ease? There is now. Timothy Clark, a Windsor chairmaker in Waltham, Vt., built his 29-ft.-long, 203-spindle stretch settee early in 2006 for a restaurant at the Park Hyatt hotel in Washington, D.C. To simplify assembly and delivery, Clark built the settee in three sections, each just over 9 ft. long. The seat planks meet in butt joints secured underneath with wooden cleats.
To join the crest-rail sections he used a custom-made turnbuckle system, and for the arm-rail sections he used barrel bolts. The spindles are through-mortised top and bottom and each of those 406 joints is wedged. With so many spindles, consistency was crucial. A jig helped Clark space the holes and drill them at the proper angle. For a closer look at the process, see his Web site: www.timothyclark.com.
Photo:  Timothy Clark