Blog
The Chairs of Robert Erickson
Explore some of the astounding pieces made by one of the most accomplished chairmakers in the country.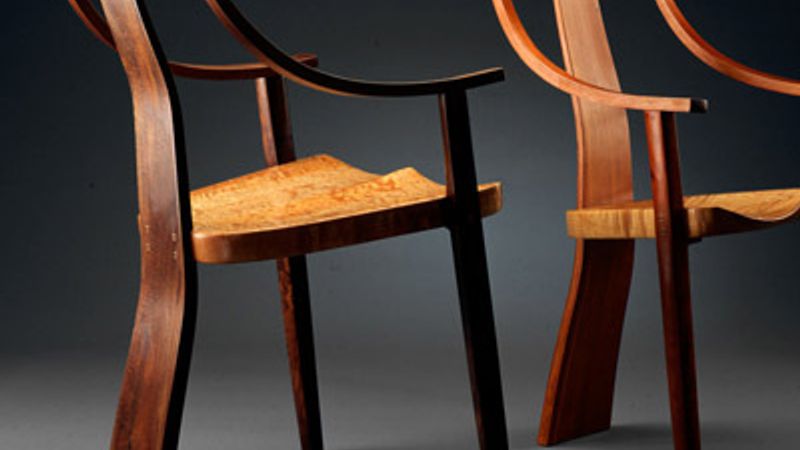 Jon Binzen
Robert Erickson is one of the most accomplished chairmakers in the country. Raised in Nebraska, he made his way to California in 1969 and a few years later built himself a shop in a remote area in the foothills of the Sierra Nevada mountains. With no power, no phone lines, and no potential clients nearby, he began working with hand tools–and a chainsaw–and decided to focus on chairs because they were easy to ship. These days he runs his fully-equipped shop on solar power and ships his work all across the country.
With no formal training in woodworking, Erickson learned through reading and by trial and error. After four decades at the craft, he's earned a national reputation for chairs in a wide range of types and various styles, all of them combining a command of aesthetics, durability, and comfort.
Erickson's chairs typically feature clear-finished domestic hardwoods–most of them western but some from the east–but he also has an affinity for pieces painted in bold colors. And although he's best known for his chairs, in recent years he's been building impressive tables and case pieces as well.
More Masters of the Craft Slideshows
• Peter Sandback Nails His Designs
• Peter Galbert, Windsor Maker's Shop
• John Reed Fox: The Uncompromising Craftsman
• Jere Osgood: Modesty and Mastery
• Ulrika Scriba's Marquetry: Risk and Reward
• Adrian McCurdy: Furniture Riven from the Log
• Geoffrey Warner: Assembling a Life
• Peter Shepard Turns the Page
• Partners in Craft: Harold Wood and John O'Brien
• Tool Chest with an Arts & Crafts Legacy
• Adrian Potter: Thinking Furniture
• John Cameron: A Musician in the Woodshop
• Allan Breed: The Past Recaptured
• Kintaro Yazawa: Joint Wizardry
• Grant Vaughan: Subtropical Virtuoso
• William R. Robertson: Micro Maestro
Working in the off-the-grid shop he built forty years ago near Nevada City, California, self-taught woodworker Robert Erickson has earned a national reputation for his chairs.