Blog
Chairmaker's Shop Has a Kindred History
Windsor master Peter Galbert discovers that his home and shop have a deep chairmaking history.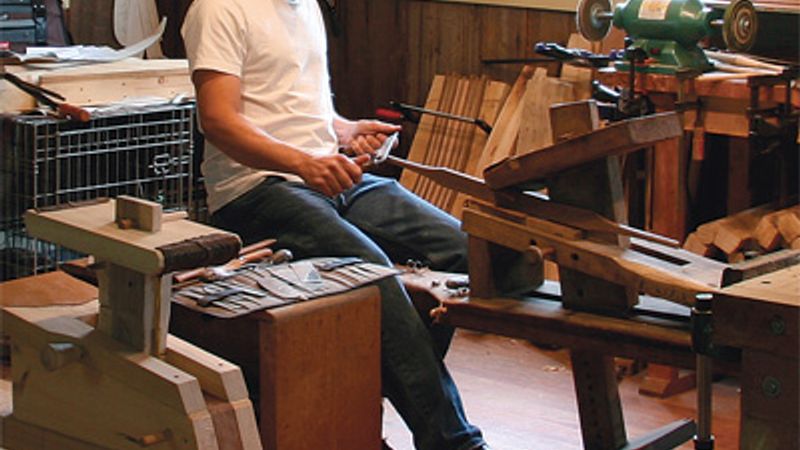 Jon Binzen
When Windsor chairmaker Peter Galbert moved from Upstate New York to Sterling, Massachusetts last year, he found a house with a history. He loved the 210 year old timberframe house for its bones, but also for its background-the house was built by a Windsor chairmaker, and that a chair shop had stood beside the stream across the road for 150 years before collapsing in the 1950s. Then he discovered that the quiet town of Sterling was once a powerhouse of chairmaking. In the early decades of the 19th century, the town had dozens of small chairshops that together produced as many as 70,000 chairs per year, making Sterling the capital of chairmaking in Massachusetts.
Although the old chair shop was gone, the house had an attached carriage house that was paneled with planks salvaged from the old shop. It didn't take long for Galbert to size it up as the spot for his new shop. This slideshow gives a tour of Galbert's new/old shop, highlighting tools that Galbert makes for his own use and for sale-some of them ingenious, some beautiful, some both. It also presents an array of his Windsors, which look quite at home in the Galberts' beautiful old house of Windsor.
More Masters of the Craft Slideshows
• Peter Sandback Nails His Designs
• Liam Flynn: Virtuoso Vessel Maker
• John Reed Fox: The Uncompromising Craftsman
• Jere Osgood: Modesty and Mastery
• Ulrika Scriba's Marquetry: Risk and Reward
• Adrian McCurdy: Furniture Riven from the Log
• Geoffrey Warner: Assembling a Life
• Peter Shepard Turns the Page
• Partners in Craft: Harold Wood and John O'Brien
• Tool Chest with an Arts & Crafts Legacy
• Adrian Potter: Thinking Furniture
• John Cameron: A Musician in the Woodshop
• Allan Breed: The Past Recaptured
• Kintaro Yazawa: Joint Wizardry
• Grant Vaughan: Subtropical Virtuoso
• William R. Robertson: Micro Maestro