How-To
Design Discussion: Evan Court's Salmon Falls Chairs
Up-and-coming furniture maker breaks down his design process from beginning to end.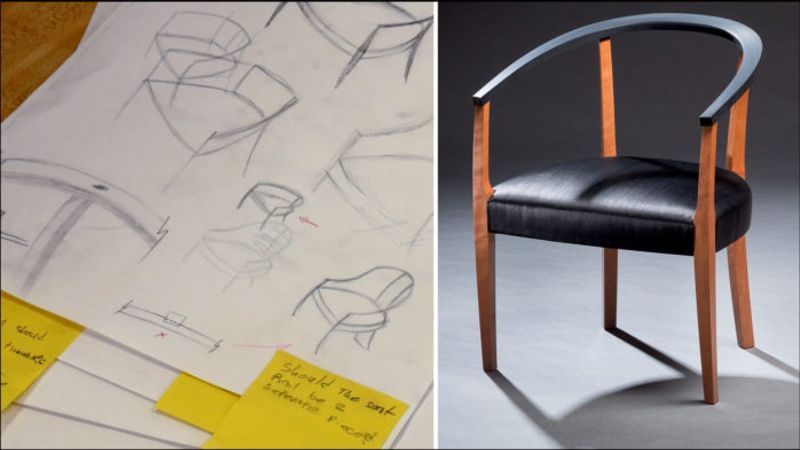 Fine Woodworking
Recently I was left with an extra day in the middle of a New Hampshire trip, so as any good woodworking journalist (am I really a journalist?) would do, I set my course on Rollinsford. To most people, Rollinsford is little more than a quaint town that sits on the Salmon Falls river, just this side of Maine. For me, it's a chance to eat at The Bean and get my favorite curried chicken salad wrap. More importantly though, Rollinsford has more woodworking talent packed into one building than just about anywhere else I can imagine. By climbing one rickety set of stairs in an old mill building, you can come across the likes of woodworking greats such as Allan Breed, Peter Galbert, Claire Minihan, and Matt Wajda. But possibly more important, there are some up-and-comers working amongst the greats, woodworkers like Joel Paul, Roger Myers, and the focus of this video, Evan Court.
I first started watching Evan via his Instagram feed, after Matt Wajda declared he was someone to keep an eye on. Immediately I was blown away by Evan's work and was shocked to learn that he had only recently graduated from The North Bennet Street School. After NBSS, Evan studied at Maine College of Art. Evan has taken both his furniture making and fine art educations and hit the ground running. Shortly after striking out on his own, he is already an invited artist with The New Hampshire Furniture Masters, a group that is widely thought of as the Who's Who of makers and which includes familiar names such as Jere Osgood, Garrett Hack, Tim Coleman, Tom McLaughlin, and David Lamb. It's exciting to see such strong and thoughtful work coming from someone who, when compared to those he is showing his furniture next to, is just getting started.
More on FineWoodworking.com: