Projects and Plans
Comfortable Seat for Two
Smart bandsawing creates an elegant bench with beautiful curves and very little wasted wood.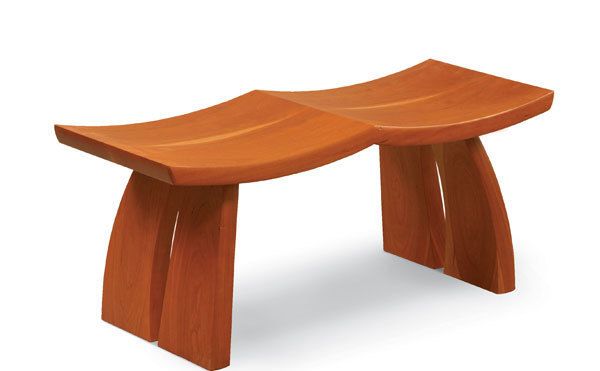 The design for this bench kicked around in my head for several years as I worked out the details. The wait was worth it. Clients love the curvaceous seat and legs, with their subtle but noticeable Asian influence. And being a native of New England, where frugality is prized, I take pleasure in knowing that very little wood is wasted when I make the seat. The offcuts from shaping the top are glued to the underside so that the top and bottom curves run parallel, a technique I first developed when making rocking-chair seats.
The curves of the seat aren't just for show. Each one scoops out a comfortable place to sit. And I add a gentle curve to the edges—I call them "pillowed" edges—to further soften the look of the bench.
I also am pleased that the simple elegance of the bench is the result of a refreshingly simple technique. The seat is made from two planks of wood. All it takes is two cuts at the bandsaw to rough out the scoops. I then move the offcuts to the underside and glue them in the same orientation. After the two halves are glued together, I shape the legs at the bandsaw, and join them to the seat with mortise-and-tenon joints.
In all, I find this a satisfying piece to make. Not only do my clients find the design pleasing, but they find comfort in it, too. And it pleases my frugal Yankee soul that I'm helping to conserve a precious resource by getting the most out of the wood I use to make the bench.
From Fine Woodworking #215
For the full article, download the PDF below:
View PDF