Final step for your veneer art: Finishing
Use spray lacquer or shellac, and remember that woodworking is supposed to be fun!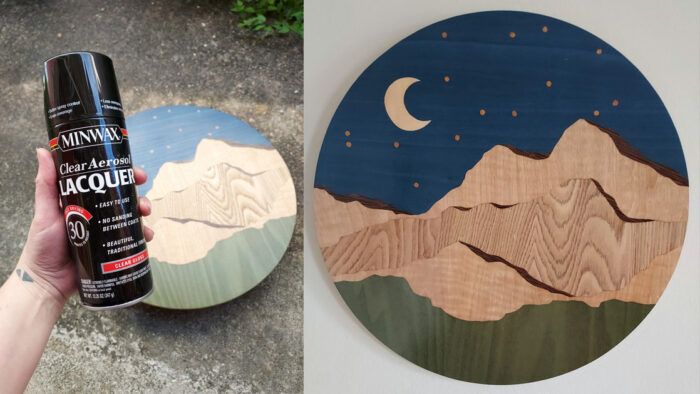 The final step to your veneer creation is applying a finish. There are so many finish options and if you are a beginner, it can feel daunting to choose which is right for you. I'm only going to talk about two different finishes to keep it simple.
My preferred finish is rattle-can spray lacquer that you can pick up at most hardware stores. I love spray finish because it is easy to get a smooth, even coat. I have also found that lacquer hides mistakes in veneer. If there are areas that were not sanded perfectly or a little glue was showing, the lacquer does not highlight it. Brown Titebond 3 and lacquer are good friends that work well with each other.
When spraying, you want to keep the coat even. Spray straight lines across the piece, then turn your project and spray straight lines in the opposite direction, crossing over your first coat. I usually do three coats of finish, but do as many as you like.
Another option besides spray lacquer is hand-applied finish. One of the most popular examples of hand finishing is shellac. Shellac is clear, fairly easy to apply, does not create intense fumes, and is favored among a lot of beginner woodworkers. If you like shellac and it is readily available, go for it! It's a great alternative to spray finish.
To apply shellac, wad up a small rag and wrap that in another small rag so you have a little pouch. Get the rag damp but not dripping and slowly wipe in straight, consistent lines. Apply as many coats as you like.
Remember to use the proper safety protection in a well-ventilated area with all chemical finishes. 
Congratulations, that's the final step! I hope this blog series was helpful and encouraging. If you were to take anything away from this series, please remember that woodworking and making art is fun and doesn't have to break the bank.
More in this series