Woodworking news — August 8, 2022
Dewalt recalls miter saws, Woodpeckers announces a trio of tools, and Castle sponsors education program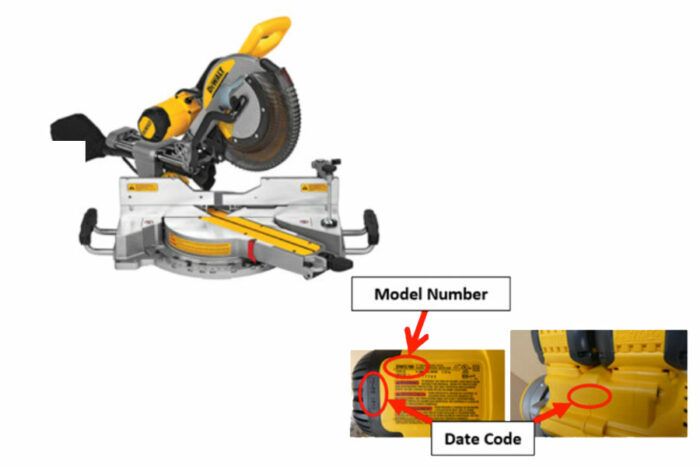 Recall notice from Dewalt on their model DWS779, DWS780 and DHS790 Miter Saws:
The following models are affected: This recall involves DEWALT Model DWS779, DWS780 and DHS790 (designated DHS790AB or DHS790AT2 on the carton) Miter Saws. The saws have a yellow body with black accents and the DEWALT logo. The model number is printed on the saw's nameplate. Only saws with date codes 2019 04 through 2022 04 are affected.
To see if this recall affects your saw, visit this page.
---
A trio of tools from Woodweckers
Woodpecker's Combo T for Woodpeckers woodworking rules have earned a reputation for accuracy, convenience and ease-of-use. For several years, both ends of all sizes (except the six-inch) have been drilled and tapped to mount accessories like the Hook Stop. Our newest accessory for the Woodworking Rules uses the same precisely machined mounting points to turn your Woodworking Rule into a T-Square. If that's not enough, depress the button in the middle of the T-Square head and rotate the base of the head until it snaps into a perfect 45°. Introducing, Woodpeckers 45/90 Combo-T.
Whether you're using the 12″, 24″, 36″, 49-1/2″ or any of the metric Woodworking Rules, you now have a T-Square with a solid physical reference for the starting point of the scale. Use it to strike lines perpendicular to the edges of your material. and mark dimensions confidently, knowing the end of the rule is correctly aligned to the edge.
When it's time to lay out 45° angles, just depress the stainless steel locking button in the center of the head and rotate the base until it snaps into place. It locks in at both 45° right and 45° left. Now you can lay out octagons and mitered corners just as confidently as you can squares.
If you demand precision even on a construction site, you'll love Woodpeckers new SkillSquare Job Site (JS) models. Thousands of woodworkers who cut their teeth on a carpenter's square loved last year's SkillSquare OneTIME Tool launch. SkillSquares merge the features of the traditional carpenter's square with Woodpeckers tradition of precision-machined one-piece stainless steel blades and separately machined beams. Now we're adding the original SkillSquares and the new "JS" SkillSquares to our permanent product line-up. You have your choice of four squares that are equally at home in the cabinet shop or on the job site.
Woodpeckers, recently introduced a 4-piece Stair Gauge Set. Carpenters have been using stair gauges on framing squares for over a hundred years, but one of the Woodpeckers team started using them on triangular carpenter's squares a few years ago and shared the idea in a few product videos. With several such squares in the Woodpeckers line-up, it was a no-brainer to add their own spin on the stair gauge. Woodpeckers Stair Gauges make repetitive angle marking quick and easy with their popular DelVe Squares, their new SkillSquares, any brand of speed square and traditional framing squares.
In addition to the traditional 1/4″ depth, the set includes a pair of 3/4″ depth Stair Gauges. The longer set ensures accurate marking on construction lumber with large round-overs and wany edges. Also included is a wall-mountable Rack-It™ to keep the stair gauges stored in plain sight, instead of hiding in the bottom of a drawer or tool box.
Complete details on all three can be found at the Woodpeckers website: woodpeck.com
---
Castle USA's Education Program and New Student Woodworking Contest
"What's Your Angle?" competition will award professional pocket cutter prizes 
Petaluma, CA (August 3, 2022) Castle USA is introducing a new student woodworking contest, "What's Your Angle?" as part of its Education Program. Long highlighted by offering accredited institutions 15% off of its pocket cutting machines, assembly tables and tooling, the "What's Your Angle" inaugural competition will be open for entries September 1, 2022, and will close November 1, 2022. Winners will be announced December 15, 2022. Contestants will compete in three categories: Individual Student, High School Program/Class, and Secondary or Vo-tech Program/Class. Entry forms and other contest information can be found on the Castle website, by emailing [email protected] or by stopping by Castle's tradeshow Booth #B4341 at the upcoming IWF trade show in Atlanta, August 23-26. 
Winning category entries will be awarded a Castle 110 Pocket Cutter, a TSM-12 Pocket Cutting Machine, or the foot-pedal operated, TSM-22 Pocket Cutter, prizes which have MSRPs ranging from $659.99 to $4,899.00. "At Castle, the education of future woodworking professionals has long been an area we've supported and encouraged," says Mathias Forsman, CEO. "We wanted to bring attention to our Education Program, so that woodworking programs across the country would be aware of Castle's 15% off program, and also to encourage students and student programs to showcase their work and get rewarded for that." 
Entries will be judged based on the overall look and presentation of the project as well as the most effective and innovative use of screw pocket joinery. The judging panel will include Castle founder Max Durney and other Castle staff along with industry professionals. Learn more about Castle's Education Programs and the "What's Your Angle?" woodworking competition online or by stopping by the Castle booth at IWF, August 23-26, in Atlanta, GA. 
---
If you have a tool release or news item you'd like considered for new, weekly roundup of woodworking news send it to [email protected].