Benchmarks: Owen Madden—From articles to video workshops to podcasts to blogs, there's something for every woodworker – Fine Woodworking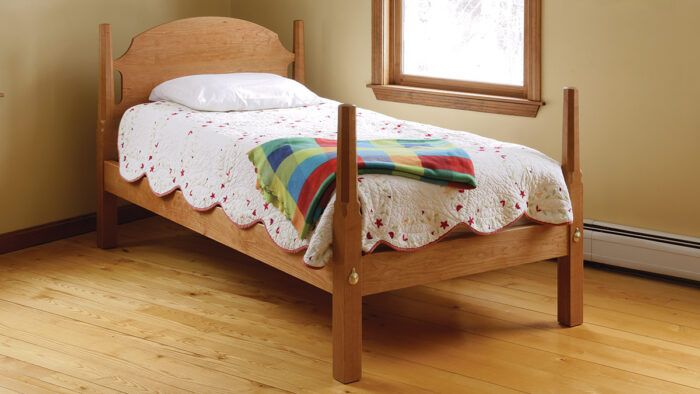 I'm a complete super fan of Fine Woodworking. I work through every new issue like a teen devouring a Twilight novel, feverishly reading and examining the beautiful imagery painstakingly laid out on every page. The mix of different mediums between each cover can be almost too much. How am I supposed to concentrate on the best tapered bed-post methods when I'm still thinking about how my shop definitely needs whichever product Asa Christiana just did a mind-numbing comparison on? Roll that all up, then sprinkle on the video workshops and constant blog updates. How could anyone not be hooked?
I am a cabinetmaker in upstate New York; I have worked in multiple fields trying to find which suits me best. I have done historic restoration work, dabbled in modern home building, and even spent a short stint doing architectural millwork before I landed on cabinet making. The one thing that draws me to all these disparate facets of woodworking is the beauty of their utility. For example, I have built many doors over the years ranging from an 1800s brownstone entry door to 12-ft.-tall glass modern doors. While there are many differences between these styles of doors, they share a commonality: Both are the first thing that greets you into the home, the thing that you see from the taxi after a long trip and run through in excitement to be back home. The simplest details can be the most meaningful, and while I might be creating a small part of the entire home, they can be the most significant.
In my family, the kitchen is the place to be. Everyone congregates to share recent life
developments while doling out compliments to the chef on the euphoric smells of simple garlic and oil. The cabinet doors start flapping while we try to figure out where that damn serving dish went, and by god, if it is not in the same cabinet where it always is, just missed by a frantic glance. I know it is not an original thought, but the kitchen is without question the soul of the home. I like that kitchens are made to be beaten up and utilized to their full extent. The allure of building a studio piece of furniture escapes me; that's not to say I don't admire them greatly, but I like to know the things I build will be put through the paces of life.
I wouldn't be surprised if everyone reading this magazine agrees that Nancy Hiller is their favorite cabinetmaker. Outside of her talents in the shop, the way she shares her stories, her honesty in her writing, and the overwhelming love she has for the trade are genuinely inspiring. I will attest that in most of the articles in the magazine, I admire the pictures, and if I see something interesting, I will dive into the writing to get a secret technique from the author to maybe use one day. That's just the magazine. I am also a biweekly podcast listener, and it's a great way to absorb information from the most knowledgeable people on the subject.
My favorite thing to consume is the video workshops. It's like being a fly on the wall in the shop but then the person decides to explain to the fly in great detail what they are doing and why. What a lucky fly I am to have Christian Becksvoort explain how he dials in his pillow sander and why on earth he is grabbing that belt sander. I will never find boredom in being a woodworker, not just in the actual building but also in creating a mental toolbox to open when stuck on a tricky design or need to fix a mistake after an epic smooth move. That is the part that keeps me going, and Fine Woodworking always seems to find new ways to feed my woodworking obsession.
Owen Madden
​
Nancy Hiller builds a time-tested and versatile chest originally designed by Ernest Gimson.

Nancy R. Hiller

In this introductory overview, watch contributing editor Christian Becksvoort build the stand from start to finish.

Christian Becksvoort

These space-saving dust-collection units have the power to get the job done.

Asa Christiana

Traditional form gets a trim in this update to a classic

Tom McLaughlin