The perfect amount of glue
Too much? Not enough? Just right? The best way to find the sweet spot is to watch and learn.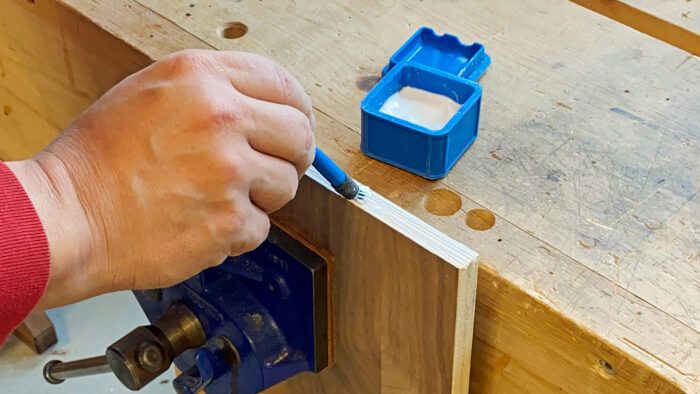 There are many consumable products that we use in our shops, from sandpaper and finishes to the almighty blue tape. In my eyes, one of the most important is glue. 
Now don't get too excited. This is not going to be a discussion on the merits of hide glue over PVA or anything so dull. I want to discuss the volume of glue that gets used by various woodworkers. What is a good amount of glue to use?
It's hard to quantify this, and erring on the side of too much or not enough can have horrible outcomes. Too little glue in any joint can starve the joint of the adhesive's holding power. This starvation can lead to joints coming apart, laminations delaminating, and veneers lifting. All of these catastrophes can be repaired but they are embarrassing and disappointing, especially if they happen to a piece that lives in a client's home. "Client" can mean paying or otherwise, like your mother-in-law. I'll let you decide which is worse.
On the other end of the spectrum is too much glue. I've watched woodworkers lay on gobs of the stuff, offering assurances like "glue is cheap so don't skimp." But too much glue can be just as bad as not enough. In the case of edge-joining boards to make longer panels, using too much glue can lead to a right mess, with glue dripping out of the joint, getting on everything, and smearing all over the faces of the panels you are working with. Not to mention the boards skating around as you try to apply clamping pressure. Getting all the excess glue off is a nuisance whether it is wet or dry or something in between. It basically looks like an industrial accident at a doughnut glazing factory.
In the case of a joint like a mortise-and-tenon, too much glue can lead to a hydraulic lock. There are certain things you just can't do in life, and one of them is compress a liquid. The best that can happen with a hydraulic lock is it will keep a joint from going all the way home. At worst, you can blow out the bottom end of a mortise, leaving you with a broken joint and glue everywhere. Sadly I have had personal experience with this phenomenon and I don't recommend it to anyone. 
Too much glue on a veneer substrate? This can lead to unfixable puddles of adhesive under the veneer that harden and look like the start of a carbuncle. I've had little air pockets appear in a veneered panel after pressing but those are easily fixed by injecting a bit of thinned adhesive into the pocket and putting it back in the press. 

So how is a person to know how much glue to use? I learned by watching others. I once watched Garrett Hack glue up a tabletop when I was a student at Rosewood Studio. When he finished clamping, there was a consistent row of 1mm beads of adhesive squeezing out. He deemed this as the perfect amount of glue, and if it's good enough for Garrett then it's good enough for this guy. 
In the end, there are many places to see a well-done glue-up with an appropriate amount of glue. In fact, you are in the best place to find this info. Browse Fine Woodworking, look at pictures of glue-ups, and pay attention to the amount of glue in the photo. Ultimately, my motto "In order to understand, you must do" couldn't be more true. Practice with some scrap pieces or test joints to see what you come up with. There is no replacement for experience. 
---