Robell Awake: Crafting change
Robell works to bridge woodworking's opportunity gap and challenge the scope of "period" and "fine" furniture.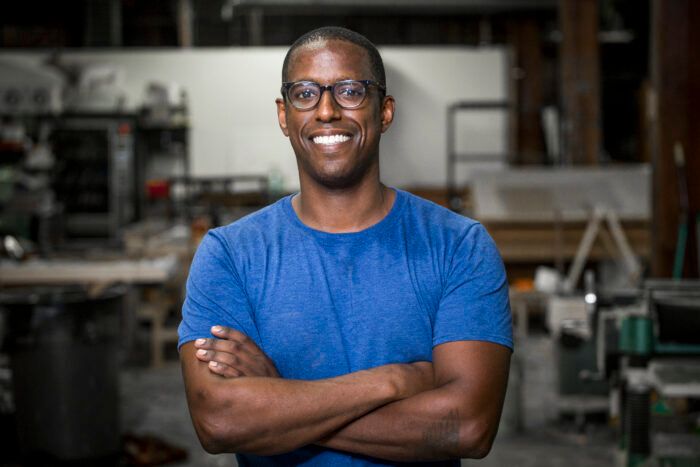 Some of Robell Awake's story sounds pretty familiar to most woodworkers. First, there's the enduring itch to make. For him, it started in his early 20s when he dove into a DIY ethos inspired by his time as a bike messenger. After working various trade jobs, he homed in on carpentry and furniture work. Robell took an intensive hand-tool woodworking class at the North Bennet Street School in Boston, and he's continued to expand upon his love for hand-tool woodworking back home in Atlanta.
But there's more to him than just a passion for the craft. Robell, the son of Ethiopian immigrants, says, "As a Black woodworker, I've been overwhelmed by how white and male-dominated the woodworking community is. This is true in the pages of Fine Woodworking as well." So it's no surprise his story also includes a steadfast commitment to social justice, both in society at large and within the woodworking community.
Making more with makerspaces
One promising step towards effecting change is the emergence of more community-based makerspaces, like MASS Collective in Atlanta, where Robell is a member and teacher.
Makerspaces are multidisciplinary shops that operate on a membership basis. Often in large cities, they offer access to space and tools, both costly barriers to entry for a maker of any skill. As MASS Collective puts it, the organization is "dedicated to lowering the barrier of entry to manufacturing equipment and design resources."
Robell is drawn to the potential of a good makerspace, both for himself and for the community at large. "If It wasn't for a makerspace, a place where I could pay to have access to a fully equipped workshop, I wouldn't have had the opportunity to pursue woodworking as a career, or even as a hobby."
Since joining, Robell has moved from member to teacher. He began with a semester-long class for a small group of high school students, leading them as they built a set of communal tables and benches for their school's lunch room. From there, he moved on to fundamentals classes, like overall machine use and safety to router table 101.
Robell's own education has been a mix of formal and informal. That aforementioned intensive class he took was at North Bennet Street School, which is celebrated for its traditional focus. Prior to that, Awake spent his days off from his carpentry gig helping out a local custom furniture maker, Kendrick Anderson. For a year or so, Kendrick showed Robell the basics of machine woodworking. NBSS served to complement this experience. "I knew the school's Cabinetry and Furniture program would be a great place to learn the basics of hand-tool woodworking."
It took plenty of work to afford the two weeks, but it paid off tremendously.
"I saved up for a while, doing construction work during the day, bartending on the weekends. The experience at North Bennet was transformative. Learning how to use and sharpen hand tools, cutting my first dovetails, and being able to live and breathe woodworking for two straight weeks changed everything for me."
He brought that experience back home, including the skills, the sense of community, and, equally important, knowing the expense it took to get there.
"Makerspaces, like MASS and A Workshop of Our Own in Baltimore, get me really excited about the future of the craft," Robell says. "They are crucial not only as incubators of creativity and community, but also to close woodworking's opportunity gap. We need more shop spaces that are financially accessible, actively anti-racist, and prioritize the membership of  Black, brown, queer, and women craft folk."
Celebrating Black furniture
The second element in Robell's combination of craft and justice comes via research, both academic and hands-on.
In his effort for a more representative and, he notes, "more accurate history of the craft," Robell has turned to researching the work of woodworkers who've been erased from the predominant narrative surrounding period furniture. Unsurprisingly, Robell says, these stories are difficult to find in "period furniture's one-sided conversation."
"It's really troubling that the discourse around period furniture almost entirely excludes the craftsmanship of enslaved Africans and their descendants." He explains, "In 1865, there were around 100,000 skilled Black artisans in the South, compared with 20,000 white artisans. All plantations had Black furniture makers  and carpenters. Often these highly skilled workers excelled at more than one trade. Historian Leonard Stavisky writes about how the enslaved woodworker was simultaneously a cabinetmaker, wheelwright, coffin and pattern maker, architect, cooper, sawyer, and on and on. Who were these brilliant people? Why aren't their stories being told?" These erasures, he says, are glaring.
"There are so many untold stories and unrecognized traditions that I want to learn more about, and amplify in my own work," Robell says.
Robell is also drawn to a chairmaking tradition from Ethiopia's Jimma region, where chairs are hewn out of single Wanza tree trunks. "They are incredibly labor intensive because they are most likely made entirely with hand tools," he observes. "The results are breathtaking."
"It's hard to date them, but many were made around the turn of the 20th century, if not earlier, and it's unclear if they are still being produced," he adds.
On a 2018 trip to Ethiopia to visit family, Robell was struck by the simultaneous public-private presence of these chairs.
"Most of the chairs that I encountered on my trip were in museums, but sometimes I would see them in random places, like the home of a relative or outside a restaurant's bathroom," Robell says.
"I've never seen two Jimma chairs that look anything alike. There's a clear visual language and aesthetic, but within these constraints of tradition and material—one solid tree trunk—each chair is imbued with a freedom and idiosyncrasy that can only come from the most intentional of skilled hands. This is absolutely 'fine' furniture."
Of course, as a maker, Robell has some hands-on intentions too. "I hope to go back to Ethiopia soon to do research on these chairs, see if there are any woodworkers in Jimma still making them, and learn from them."
Robell has recently gotten into green woodworking to try and better understand how these chairs might have been constructed.
Working for justice
Robell's itch to make persists, and he tried to parlay it into full-time furniture work. But paying the bills proved difficult.
"Pursuing a full-time woodworking career was really difficult. I bartended until 5 a.m. on the weekends to supplement my income, and I was constantly worried about where the next job was coming from. I was also disillusioned with the idea of making furniture that only people with means could afford," Robell explained.
"These stresses and frustrations started to add up, eventually leading me to Habitat for Humanity, where I've worked for two years."
Enter the third element of Robell's mixture of justice and craft.
Robell's a house leader with Habitat, no small role. One part of the job is managing construction, ensuring Habitat homes are built well and to code. The other part involves overseeing the organization's fleet of volunteers.
The organization's mission, which focuses on building quality affordable housing, resonates with Robell.
"I enjoy the ability to work with my hands while simultaneously doing work that feels more meaningful," he says. "Housing is a human right, and in the world I'm fighting for, we wouldn't need non-profit organizations to provide it."
But moving to home construction hasn't distracted Robell from furniture making. If anything, it's enriched it. While he admits home building can feel like a world apart, it doesn't need to.
"I've come to realize that 'rough' carpentry and 'fine' woodworking is somewhat of a false binary," Robell says, "and it implies a value judgment that I don't believe in. I've been amazed by carpenters who make quick and accurate work of mortising a door jamb with a dull chisel or using a $10 coping saw to cut seamless inside miters on base trim. Both realms hold equal value and importance to me and my work."
If you follow him on Instagram, you've perhaps seen him teaching someone how to sharpen a chisel or glue up panels. Similarly, he will be teaching a class titled "Demystifying Dovetails" at Penland in the summer of 2021.
Robell loves sharing his passion with others and making woodworking less intimidating, another piece in his efforts to craft change.