Essential hand-tool jigs for woodworkers
From shooting boards to work holding fixtures, check out this collection of jigs that make handwork easier and more accurate for any woodworker.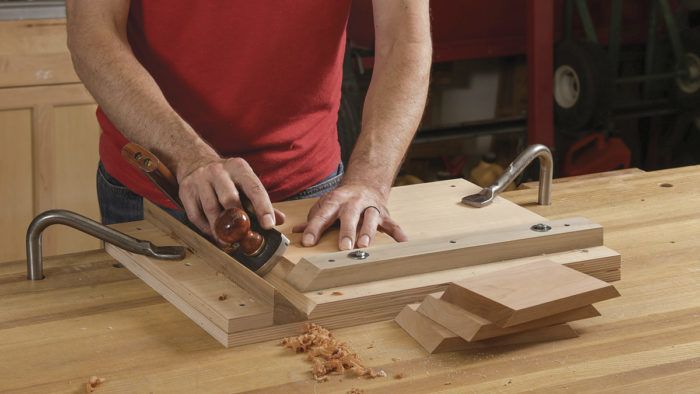 "If you can see the line, you can saw the line."
-Every hand-tool-only woodworker ever.
---
It sounds easy enough to cut to a line, but some of us haven't built up the muscle memory and skill required to cut exactly to the line every time, or even anytime! Woodworking jigs are often thought of as something only used alongside our corded friends, but in reality jigs are equally at home used in conjunction with hand tools. Here, we collected some of our favorite articles about hand-tool helpers. From shooting boards to workholding fixtures, these jigs make handwork easier and more accurate for any woodworker.
---
One of the secrets to hand-tool success is keeping the workpiece from moving as you work on it. While clamping a piece in a vise or to the benchtop can work, often it's overkill. Not only that, but clamping and unclamping adds a lot of time to the process. A better method is to use a planing stop or saw hook, which take advantage of the cutting force of the tool to keep the workpiece in place.
---

Build a shooting board that allows you to rough out case miters on the tablesaw and then plane them to perfection. It starts with a solid, stable base. Add a runway that's exactly 45° and a fence that's exactly 90° to the runway, and you are on the way to achieving perfect case miters.
---

Vises are a fundamental tool for holding work securely at the bench, but they can't do everything. These techniques from Chris Gochnour incorporate holdfasts and hand screws to extend the grip of your vise and enable it to hold wide or long stock without racking. Planing drawers is made easier through the use of two simple workholding jigs.
---

Bench puppies—shopmade jaws that slip into the dogholes in a workbench and tail vise to clamp a workpiece on edge—are as simple as they are ingenious. Made from scrap hardwood and a dowel, with a cork face to protect the workpiece and discourage slipping, they work in pairs to grab both ends of a workpiece and hold it against the front of the bench. They can hold any shape, from a long board, to a door, to a drawer, or an odd-shaped piece. Once you've made a pair, you will wonder how you ever did without them.
---

With its long base and two-part fence, this multi-purpose shooting board can handle five different planing jobs. Like most of its kind, it's good for trimming end grain and miters. But it also works great for shooting the edge of a board and serves as a planing stop, handling both thin and thick parts. Timothy Rousseau demonstrates how to make it, and then shows you how to use it for all of these tasks.
---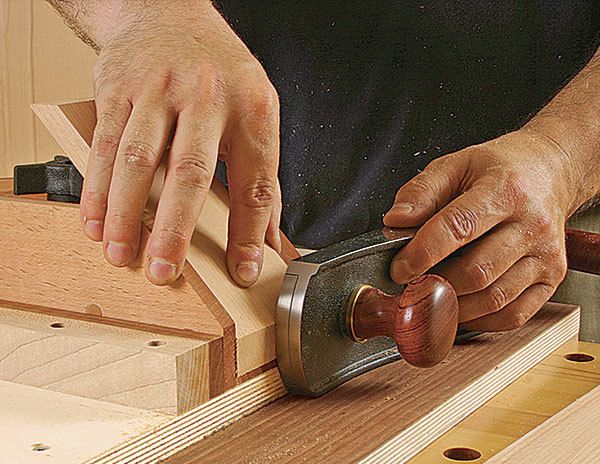 Norman Pirollo discovered the joys of woodworking with hand tools a few years ago. And while he relishes this quiet, hands-on approach to the craft, he's had to find ways to make handplaning more efficient. This series of jigs is one way he does it. Designed with 3/4-in.-dia. dowels that fit into dogholes in his workbench, these jigs—a planing stop, a bird's-mouth stop, a planing board, and a shooting board—help make it easier to plane the ends, edges, and faces of boards, fit perfect miters, and work with small, narrow, or oddly shaped workpieces.
---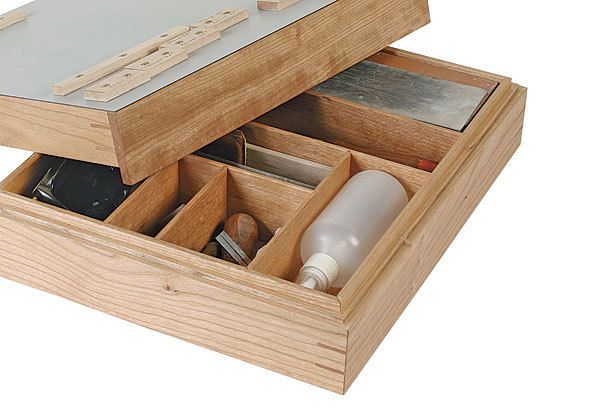 This mitered sharpening box has dividers for storing all your sharpening gear in dedicated spaces, and a laminated lid with cleats to hold sharpening stones and set up honing guides perfectly each time. Bob Van Dyke customized his box for the tools he uses regularly, and you can do the same for your own. Not sure what sharpening equipment you need? Also included is a basic sharpening kit that Van Dyke recommends to his woodworking students.