Video: Turn your lathe into a disk sander
Ben Strano demonstrates how to build an accessory table that mounts in your lathe banjo when using it as a disk sander.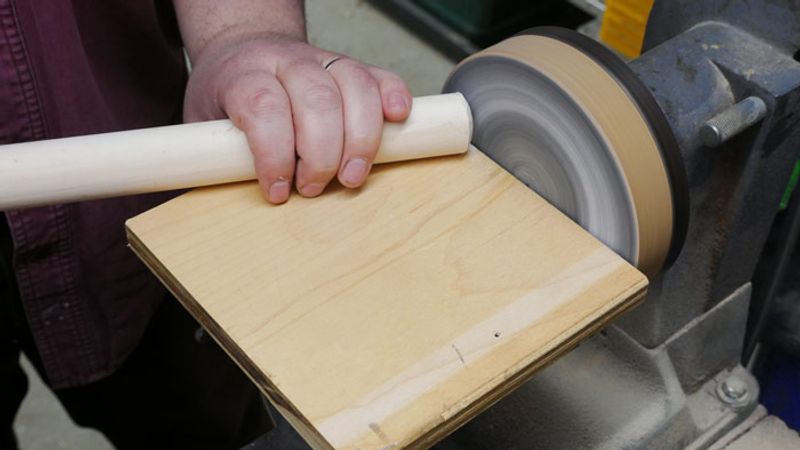 If you're at all like me, you have a lathe in your shop because from time to time you need to turn something. But they take up a lot of room and most of the time, my lathe sits collecting dust.
One of the amazing things about having access to 280-some-odd issues of Fine Woodworking magazine is all of the tips and tricks that are in each issue. Recently I came across a tip in issue #221, sent in by Bruce Barnett, that I knew I had to implement. Bruce had built an accessory table that mounted to his lathe, allowing his lathe to function as a disk sander. His version used a 9-in.disk mounted to a faceplate and his table, mounted to the bed of the lathe, included a miter slot, which is nice.
One night, I started to make the bed-mounted table, and I got a little frustrated by the idea of spending all of this time building a big table that I would then have to take off and store when using the lathe for turning. My solution was a banjo-mounted table that was much smaller and could be stored easily when not in use. I turned a 1-in. wood dowel, stuck it in a piece of scrap poplar, and and mounted it in the banjo. While that table worked, the adjustment screw on the banjo was digging into the softwood dowel and making it difficult to adjust. Gleaning some key information from John Lucas's recent AAW post, I replaced it with a simple plywood table mounted to a 3/4-in. floor flange and a 4-in. black-steel nipple.
I've thought about putting a larger disk on the faceplate, but for now I prefer that I can get 6-in. adhesive-backed sanding disks at the mom-and-pop hardware store down the road. I might upgrade it with a larger disk eventually, but for now I'm content.
Not only did this make my lathe pull more weight around the shop, but it also saved me from having to purchase a disk sander and make room for one. It was definitely worth the $10 and 10 minutes I invested.
---
| | |
| --- | --- |
| | |
| | Start with the sanding disk. Mount a square piece of 2×12 or a plywood lamination to a steel faceplate. |
| | |