Start Chip Carving
Daniel Clay demonstrates the Swiss method of chip carving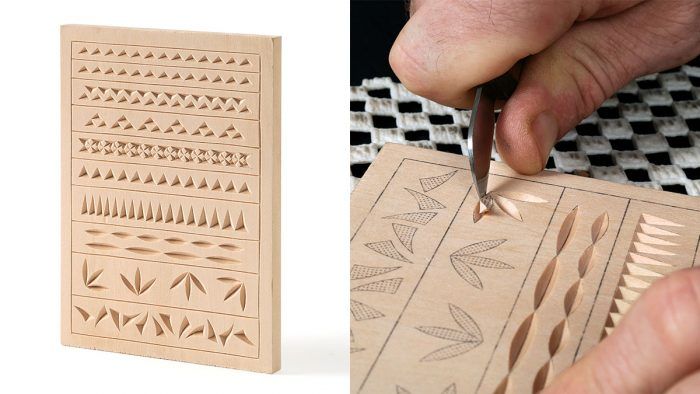 Synopsis: Chip carving in its various forms can be found in cultures throughout the world. At its essence, it's simply carving an image or shape into a wooden surface. But if you apply a series of standardized techniques, you can make amazing patterns. Here, Daniel Clay demonstrates the Swiss method of chip carving.
---
The type of chip carving I do has its roots in decorative patterns from medieval Europe, but examples of wooden objects decorated with incised geometric carving can be found all over the world. Why is this so? My intuition is that it is simply because humans are markmakers and tool users, and wood is a material common to virtually every culture. Given these basic conditions, the technique is just waiting to be found. Sit long enough with a piece of wood and a sharp knife, and you might very well invent some form of chip carving. If you've ever carved your initials or an image into a wooden surface, congratulations—you are, in effect, a chip carver. Now let's refine that ancient impulse by applying a few standardized techniques and concepts that will allow precise, repeatable results whether you're making a decorative panel or adding accents to a piece of furniture.
This article covers two- and three-corner chips, which comprise the bulk of chip carving's design vocabulary. while my demonstrations and practice board show only a few patterns, these basic examples can appear in a wide variety of shapes and sizes, which can be assembled and combined into an infinite number of designs. once you become familiar with these simplest forms, you'll begin to recognize them in virtually every chip carving you encounter.
The Swiss method
There are several schools of chip carving, each with its own particular tools and approach. The method I'll outline here is commonly known as the Swiss method, or sometimes as the Barton method, after prolific chip carver, educator, and author Wayne Barton.
From Fine Woodworking #278
To view the entire article, please click the View PDF button below.
| | |
| --- | --- |
| | |
| | |
| | A plywood base and simple accessories lock down a variety of pieces in perfect position |
View PDF