How To Flatten and Sand a Chest of Drawers
For Chris Becksvoort, the belt sander is a workhorse for smoothing drawer sides and for flattening the fronts of drawers to cases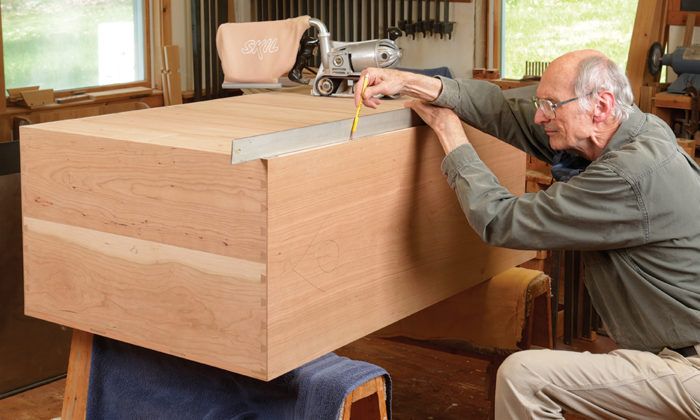 Drawer Sides
Most folks use a handplane to trim drawers with proud dovetails to fit into the case opening. That works most of the time with no problem. However, handplaning them when you have squirrely or angled grain behind the dovetail can be a major problem. A block plane works great on the end grain of the dovetails, but will do nothing but tear wild grain going downhill. On the other hand, a high-angle plane will work wonders on recalcitrant grain but will shred end grain. The belt sander doesn't care which way the grain run.
This fingered fixture is held in place by a cleat underneath inserted into the face vise. Slot the drawer box over the fingers and sand the face that's up. Rotate the drawer until all the faces are sanded and the dovetails are flush.
Drawer Fronts
Some operations are extremely difficult to perform with a handplane. For example, my seven-drawer chest has closely spaced 3/4-in. dividers that intersect at 90° to each other. Planing those flat, and changing direction without knocking off edges, is next to impossible. Not only that, but all seven drawer fronts have to be flat and in one plane. I do both operations with the belt sander. The drawers have stops and I use pine shims to wedge each one in its opening. Then, with the case on its back, I sand all the dividers and drawers in one operation: 80, 100, 150, and 180 grit with the belt sander, finer grits with the orbital sander, hand sanding, and finally 0000 steel wool.
To ensure that the drawers don't move around in the case while you're sanding, insert wedges between the dividers and drawers and cut them flush. Sand through the grits, starting at the top and moving side to side from frame to drawer until you reach the bottom.
Becksvoort stops between grits 80, 120, and 150 to check for flatness with a straightedge. He marks the high spots with a pencil before sanding again.
This is an excerpt from Chris' article Great Results With A Belt Sander in Fine Woodworking #277.