Introducing Fine Woodworking UNLIMITED
Members get access to our searchable digital libraries, 55+ video workshops, our iconic magazine, and more.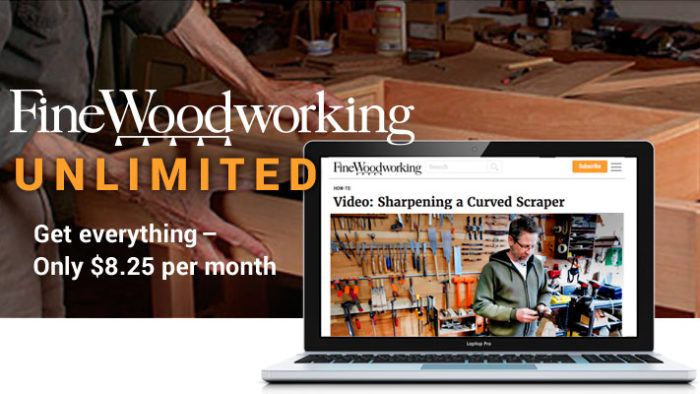 For more than 43 years Fine Woodworking has been teaching and inspiring woodworkers to do their best work. But we also want to connect with our audience so that we can build a strong community of education and inspiration that will last generations. Today we are announcing a relaunch of our membership program to help us do just that.
We've been asking a lot of questions of the Fine Woodworking community so that we can better serve your needs. Here's what we heard…
All of you are on a journey, but you are in many different places of that journey. You have different skill levels, woodworking interests, design aesthetics, makers you admire, and workshops, tools, and projects unique to you. The aspects that join this community together are a shared love of the craft, the smell of the workshop, the challenge of perfection, and the chance to create something beautiful. We are a community that appreciates precision, creativity, and problem solving.
We also heard that…
Sometimes you need to be inspired… by beautiful workmanship, an amazing workshop, or by the makers themselves.
Sometimes you need specific help… like how to get out of a jam on a project, or insight on how to execute a technique or perfect your sharpening skills.
Sometimes you need direction… on the best tools to use for a particular task or how to set up your workspace or workshop. What's the best approach for the project you're tackling next?
You told us that there are lots of ways we can help — but the best help would be to provide solutions for all of it right at your fingertips. So, that's exactly what we are going to do. Today we are launching Fine Woodworking UNLIMITED, our new membership that gives you access to over 43 years of our content designed to help with all of your tasks, questions, and desires.
I am particularly excited about the launch of UNLIMITED because now members have access to everything, including our searchable digital libraries, 55+ video workshops, our iconic magazine filled with gorgeous aspirational projects and plans, and so much more. I know, no matter where you are on your journey today, UNLIMITED has something to inspire your next step.
To learn more about UNLIMITED go to finewoodworking.com/unlimited.