Masterful Helping Hand
NHFMA helps furniture maker Grant Burger in his quest to go pro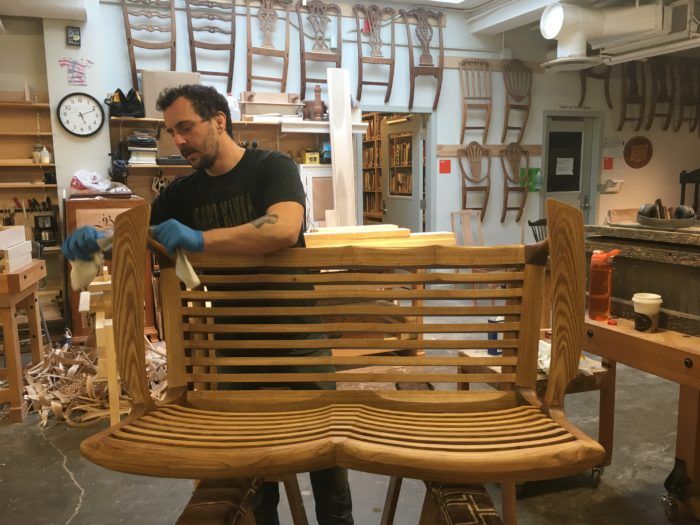 Not too long ago, professional furniture maker and carver Greg Brown was pondering an age-old woodworking question: Why is it so hard for aspiring furniture makers to make a go of it?
"My own frustrations with just simply emerging in this field and seeing the dismal job opportunities for students graduating from trade and art schools gave me the idea to pay it forward," Brown said. As a member of the New Hampshire Furniture Masters who was grateful for the opportunities the organization had placed before him, Brown started thinking about what he could do to help share some of the group's considerable expertise with an emerging maker.
Meanwhile, on the West Coast, Marine Corps veteran and mixed martial arts fighter Grant Burger was busy competing in the Full Contact Fighting Federation in Portland, Ore., and thinking about a different, possibly less dangerous, way he could use his hands to make a living. Having discovered a love of making things from wood, he started working as a carpenter and doing woodworking projects at home. After moving to Pittsburgh, one day he read a Fine Woodworking article by Dan Faia about building a bombé chest, realized Faia taught at a place called North Bennet Street School in Boston, and had a marvelous idea. He'd use his VA education benefits to really learn this rewarding craft.
A convergence of quests
The two woodworkers' quests—Brown's to help an emerging furniture maker and Burger's to become one—came together last fall after Brown, with the backing of the NHFMA and his patrons, established the Alden Artisan Advancement, a grant for aspiring professional furniture makers. Named for Brown's grandfather, Alden Hobart, the Alden Artisan Advancement offered the recipient $1,000 to develop and promote an original furniture piece, to be exhibited at the Masters' Main Event in October, professionally photographed, and featured in the NHFMA's annual catalog in the "emerging artist" section. In addition, the winner would have the benefit of feedback on the piece, be able to partake in all marketing events, and would receive professional guidance from members of the organization.
The deadline for the 2017 award was Oct. 1, 2016. At the time, Burger was very close to graduating from the two-year program at North Bennet Street. He'd spent his time wisely, earning a spot as a "student worker" so that he could stay after hours and use the school's shop in return for performing custodial chores such as cleaning bathrooms and taking out the trash. "I believe that being a student worker and having the ability to work late every day made all the difference in my ability to take on projects as a student," Burger said. "It was a dirty job, but it was completely worth it in the end."
He was working on a series of "side" projects during his after-hours time at the school, designing "a couple of variations on a post-and-rung rocking chair," when lead instructor Faia, who had noticed Burger's interest in creating studio furniture, suggested he try for this new Advancement he'd heard about. "It was only two days before the deadline," Burger said. "Over the next two days I scrambled together the scholarship package."
And he won.
With plenty of constructive feedback from Brown and fellow Masters, the first Alden Artisan Advancement winner designed his piece. Coincidentally, he, too, honored a grandparent with this award. Named after his grandmother, Burger's Lucille Rocker was designed as "a piece of furniture where two people can sit together comfortably and have a nice conversation." It has a low back, plenty of negative space to allow for airflow, and sculpted elements for comfort and looks.
"There were more than a few forks in the road with the piece's design," Burger said, "and I'm utterly grateful for the guidance of Greg and the other New Hampshire Furniture Masters."
Now he's on his way.
Open for business

"The day I graduated from NBSS I got into a moving truck and drove all night to Pittsburgh, where I'm opening a shop," Burger said. "Grant Burger Woodworking is now open for business in a 1,700-square-ft. shop in the Lawrenceville neighborhood."
There are plenty of challenges ahead for Burger. But the Masters have given him invaluable tools and exposure for the journey ahead. Burger's settee is on display at the Furniture Masters showroom in Concord, N.H., for the summer. From Sept. 21 to Oct. 1, his settee will be on view at the Masters' Main Event at the 3S Art Space in Portsmouth, N.H.  Those who are interested in applying for next year's scholarship may do so here. Next year's applicant must have graduated from trade or art school and be on a path to becoming a studio maker or tradesperson.