The Fathers of Fine Woodworking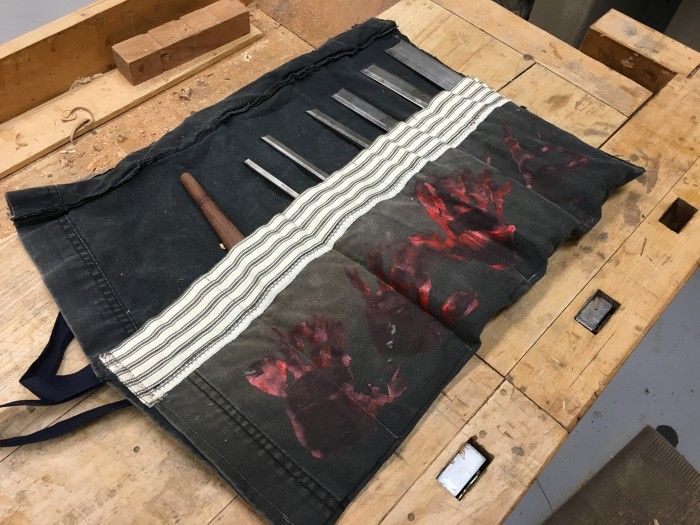 I got an email last week linking to a blog about Father's day gift suggestions for the woodworking father in your life. I think these are fine and dandy but I'm pretty sure none of your children or spouses read woodworking blogs. At this point I'm pretty sure that my own wife has stopped reading my blogs. Regardless, I thought it'd be interesting to see what the men of Fine Woodworking wanted for Father's Day. Don't think of this as a gift-buying guide. We all know that buying tools for a woodworker is a hopeless cause, unless you know EXACTLY which tool the woodworker wants. Instead this is just a glimpse into what those of us at the magazine are looking for.
Tom McKenna – Editor
I realize this may be woodworking blasphemy, but I truthfully don't have a strong need for more tools right now. So instead of cluttering up a shop I just cleaned out, I'm asking for something that's REALLY useful-and it happens to be the least-expensive woodworking tool out there. Time. With my work schedule, it's hard to find quality time in the shop, in between household chores and yard work, and children's events and sports. So this year all I really want is a full day in the shop-uninterrupted. Just me, my project, and my Bluetooth speaker, cranking out music to fit my hourly mood. I'm working on a cabinet-on-stand, and a full day will help me get the case parts fitted, profiled as needed, and glued up, so that all I have left is a drawer and door to build. I can dream…
Jon Binzen – Senior Editor
No one feels more like a father than a man with a one-month old…ecstatic and exhausted. I just shot an article with Andrew Hunter, whose 3-year-old daughter Ada acquired a younger brother, Jack, in May. Andrew looked remarkably fresh (thanks to his wife, Kate, who was handling all Jack tending during the shoot), and displayed his usual zest for handwork in the shop. Andrew is a major proponent of Japanese hand tools, and he's got a fine collection of them. But one tool he wouldn't want to do without (and which I covet) is the Veritas sliding square he bought some years ago from Lee Valley. With its wide blade and holder and its clear graduations, it makes marking in from an edge a steadier and simpler experience than when using a combination square. 
Matt Kenney – Special Projects Editor
When I was a kid, my dad would always tell me and my siblings (there are four of us) that all he wanted for Father's Day-or his birthday, or Christmas-was peace and quiet. I never really believed him. But now I have two kids, a job, a house that needs work, and a yard that needs mowing. So, what do I want for Father's Day? Peace and quiet. A guilt-free and undisturbed day in my shop (or fly fishing on the Farmington River). However, if I had to pick a tool, I guess it would be a nice Japanese paring chisel, or a very small Japanese block plane. The blades are bedded rather high, with the bevel down, so they make great smoothers. I want one with a narrow blade, 1½ in. wide or less. It would be perfect for smoothing the sides of the small boxes I make.
 John Tetreault – Deputy Art Director
When asked what I wanted for a father's day gift, my mind automatically went in the direction of a woodworking tool. I love hand tools, but I couldn't come up with one that I really needed. I do have a cordless drill that's getting pretty tired. Maybe a new battery? Then as I was poking around the Lee Valley website, I came across these little beauties: Wooden Kyougi Pads, made of paper-like slices of pine. It reminded me of when I applied to art school and sent in my resume on birch bark peeled from a tree. Every time an idea is sketched out, I imagine these pine pads would bring the same little slice of fun. 
Mike Pekovich – Executive Art Director
While time in the shop is the first thing to come to mind, for me, Father's Day has always been about spending time with the family. A trip to the local flea market is always a good compromise. While I'm always on the lookout for old tools, it's usually hard to justify adding to my collection considering my overstuffed tool cabinet. But on Father's Day a memento is in order. I like to look for local favorites. In Connecticut that means Stanley planes, Witherby chisels, and Hartford clamps. I keep an eye out for shopmade tools as well. It's great to find a marking gauge or scratch stock that shows the skills of the original owner. Meanwhile the family is usually on the hunt for vintage fabrics, old video games, and costume jewelry, so everyone leaves happy, and an empty wallet is pretty much guaranteed.
Ben Strano – Web Producer 
I too can't ask for much when it comes to tools. I'm lucky that my wife never scoffs at tool purchases. Right now we are still in a transition and trying to finish house renovations so we can move in. In all honesty, Father's Day I want to be covered in paint with my wife while our son is watching train videos in our new living room playing with trains. One step closer to us being in our family home is all I ask for… and maybe a few more Economy Allit® Modular storage case to help organize my soon-to-be new shop. I'm a nut for tidy organization and the Allit boxes have well made inserts of various sizes that work incredibly well for storing screws and hardware. Even the economy version isn't cheap but I've found them well worth the money.
What about you? What's on your Father's Day wishlist? Comment below!