Northern Woods Exhibition – Twin Cites Woodworkers with Twice the Talent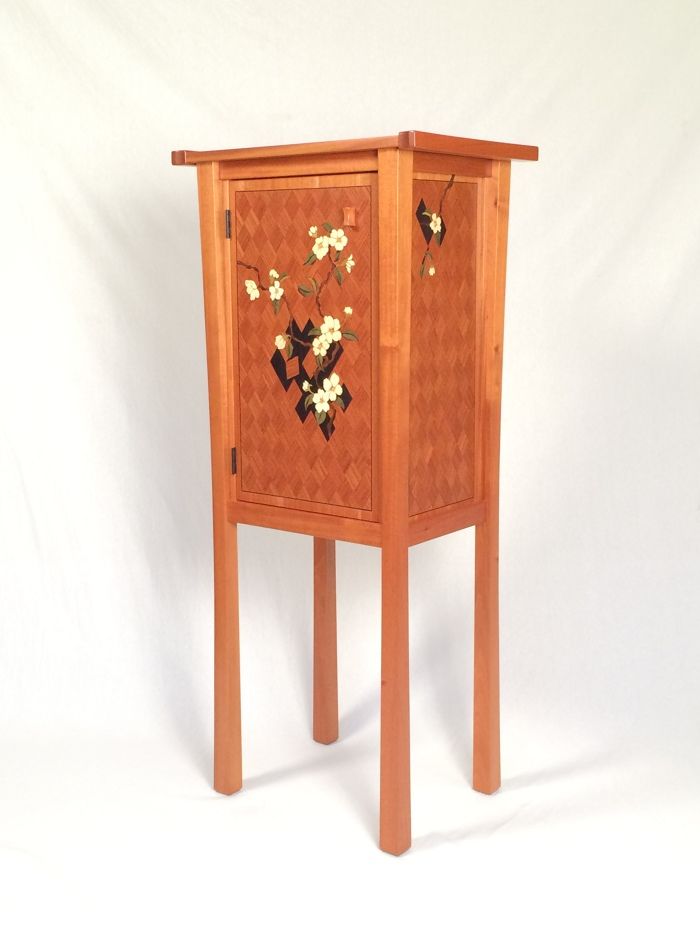 Paul Bunyan "wood" be proud of the quality of work I found at the Minnesota Woodworkers Guild's 33rd Annual Northern Woods Exhibition of fine Woodworking. This Guild is the second largest in the country with roughly 800 members, and it could be one of the oldest guilds in the country, too.
The 58 entries represented a wide variety of styles and technical approaches; from using strictly hand tools all the way to CNC work. The event was held at the Eden Prairie Center Mall, April 22-24, 2016.
I was honored to be one of the judges along with Craig Jentz and Brian Holden. At first, I thought this would be an easy task and I'd even have time to visit the Mall of America while in town, but I quickly realized that the competition would be stiff. The judges convened at 8:00 a.m. sharp and we all knew we had our work cut out for us.
There were 14 categories and we independently went to work, inspecting and scoring each piece. We were also given tape recorders to give our constructive criticisms on each entry which was an efficient way to give feedback to each maker. The recorders were a great idea and big help to quickly cover a lot of information and avoid my illegible handwriting.  I strongly recommend this to any other guild committees out there.
I many cases I found delaying my scoring as I oohed and awed over the work and was often stumped to find any flaws. Many of the pieces were practically flawless and I had to inspect every square inch inside and out, and on my knees to see the underside to find any blemishes and come up with a technical evaluation. For example: The staples weren't in line on the bottom of the chair upholstery. Or: The screw head slots aren't lined up. I was certainly reaching for something to find and enjoyed this new level of crit. In most of these types of shows I judge it is easy to find open mortises, loose drawers or orange peeled finishes.
We soon realized that it was our duty to pick Best of Show, Best Design, Detail, Finish, Traditional piece, and more, and it was going to be a difficult challenge. The level of quality in all categories was off the charts. And the majority of the entrants were by amateurs! I guess it really does get cold in this part of the country and they have a lot of spare indoor time.  I was impressed.
After our preliminary individual review, the judges convened for deliberation. Typically, there are one or two standouts in a category, but this was not the case: Each group was narrowed down to 3, 4, 5 and 6 possibilities. It was going to be a long day. We went from our private meeting room to the exhibition floor to review the works over and over.
One of the topics we discussed was perfection versus level of difficulty and risk. For example, in the carving category, the question was, if a mistake was made while carving, could it be fixed and fudged, or would the entire piece go to the burn pile? In this case Elise Walker received the top award for her "Chippendale Block and Shell Bureau" because the front drawer was carved from a single board. Blending the shells into a flat face front three times was a risky endeavor, and she received points for that.
 In other categories it came down to which pieces no flaws, none, notta. The top prize, Best in Show, went to Joe Morgan for "Opportunist" his exquisite hall cabinet that had a combination of parquetry, marquetry, subtle curves, a beautiful design and clean finish. This entry squeaked out over four other close competitors. Joe also won Best Veneering for "Wine Cabinet" sponsored and judged by Thomas Shrunk, a local world renown woodworker. See www.ThomasSchrunk.com  which came with a $150 cash prize and a signed book Advanced Veneering and Alternative Techniques, by yours truly.
Later that night I Emceed the Award Ceremony and welcomed the crowd of 75 to the caucus as I announced my presidential candidacy, running on the Kerf Party. I vowed to join two cracked panels, to keep the board union straight and seamless, using transparent and ecological practices. I wouldn't allow any useless "war"page and promised to encourage domestic woods.
 After the chuckles I next gave an extended presentation of my TEDx talk entitled, "Technology and the Human Hand-Are We Losing Touch?" This is a topic which received many lively responses from a paper I submitted to the FWW blog and posted by Asa. I will also be giving this talk at the Furniture Society's Annual Conference in Philadelphia on Saturday June 25th 2016, at the University of the Arts. To see my original TEDx talk please visit ImagineGrove.com 
 "Minnesota nice" woodworkers lived up to their reputation, but some still seemed to take sides and had strong opinions regarding using technology to create their work. It's an important topic to keep at the forefront of craft conversation.
 The awards presented were cash, gift certificates, and materials valued at a total of $3000. Additional awards included Youth, Veneer, the Paul Lee Memorial, and the Peer Award.
 After the ceremony the judges remained for additional one-on-one critiques of the work well after the mall lights were turned off.
 All in all I was very impressed with the level of quality and variety, and they were the nicest group of woodworkers. I encourage anyone in that neck of the woods to check out the Guild and double down in the twin cities. A city fit for a Prince. Visit Minnesota Woodworkers Guild to see all the entries and award winners or visit ImagineGrove to see a video of the show.
Joe Morgan's "Opportunist" took Best of Show
Mark Laub - "Queen of the Slipstream" took Most Technically Accomplished"
Joe Morgan also took Excellence in Veneering sponsored by Thomas Shrunk.  Photo- Scott Grove, Joe Morgan, Thomas Shrunk