Designing Multiple Adirondack Chairs
How to use SketchUp to plan efficient lumber use.

Our woodworking group will be making multiple Adirondack Chairs for a Summer Camp dedicated to children with cancer. For a successful project, we will need a detailed and comprehensive design of the chairs, including an assembly diagram, orthographic view from top, side and front, an exploded view, and each component with detailed dimensions. The following pictures show these types of drawings.
However, we also need a way to efficiently use the lumber on hand for this project. The lumber supply is fixed as it is special old growth redwood recovered from a hot tub. The challenge is to use this limited lumber supply to minimize waste and to produce the maximum number of chairs.
My approach to this challenge is to use SketchUp to plan how chair components are distributed to the given planks of redwood. We have on hand three unique plank configurations all at 1 1/2-in. thickness.
8 1/2-in. Wide by 72-in. Long
5 1/2-in. Wide by 47-in. Long
5 1/4-in. Wide by 60-in. Long
Here is a diagram of the redwood plank configurations.
The first step in my process is to re-orient each of the components so they can lie flat on the planks, as they would in the shop.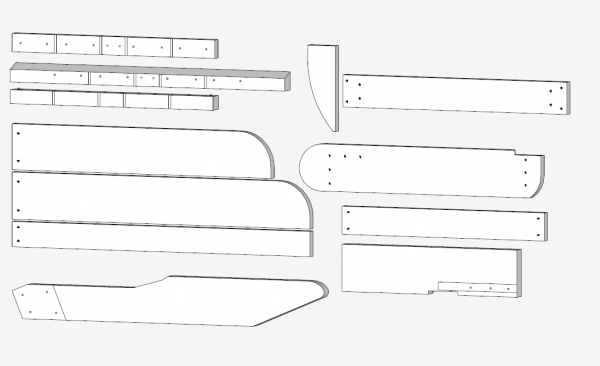 The next steps are to move these repositioned components on top of the various plank configurations, and with trial and error, find the best arrangment for efficiency. There may be a computer application that does this tedious work automatically, but I haven't found it.
Here are my results – first the legs for four chairs on the 5 1/4-in. by 60-in. configuration
Here are the results for the Arms on the 5 1/4-in. by 60 configuration.
Now I am able to organize a team of woodworkers so they know how to use the lumber planks. Not only do I get efficiency in lumber use, but also improve the labor efficiency of group members.
Here is the video:
Tim
@KillenWOOD