A Mortise & Tenon Exercise

The Mortise & Tenon joint is probably used more than any other in woodwork, and there are a great number of varieties. Perhaps the most commonest application of the joint is in making door and other frames. But there other applications involving Wedged Through-Tenon, Fox Wedging, Drawer Rail Tenons, Bare-faced Tenons, Corner Leg and Rail Joints, Molding Bars, Drawer Rail, Pinned Mortise & Tenon, etc. So it is likely that if you are a woodworker you are encountering one type or another of these joints on a regular basis.
Then it follows – if you are a beginner in SketchUp, you'll quickly be faced with "making" a mortise & tenon joint. In the following video, I provide a beginning exercise in making this joint, and it ends with preparing the dimensioned drawing that would be used in the shop.
Here is the final dimensioned drawing, that can be used as you develop the model in SketchUp.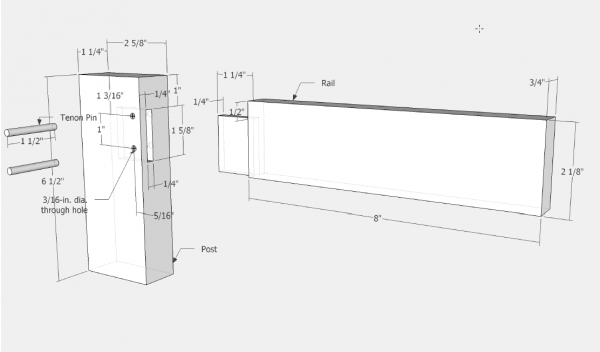 Start the modeling by making the Post that is 6 1/2-in. long, 2 5/8-in. wide and 1 1/4-in. thick.
Now create the Rail… 9 1/4-in. long, 2 1/8-in. wide, and 3/4-in. thick. It is important that you make the rail in its actual position on the Post. Obviously, it can be created separated from the Post, but you should get in the habit of creating components at their final position in the assembly. Following this rule will make your modeling more efficient and accurate.
 Make a copy of the Rail, place it down the red axis, and on that copy create the tenon.
Delete the copied Rail, and return to the assembly. Open the Post for edit, and set the Style to X-ray. With the Line Tool, trace over the boundary of the tenon as it protrudes through the edge face of the Post. Then with the Push Pull Tool, cut the mortise.
If you find it difficult to see the Rail's tenon in the X-ray view, go to Window/Model Info/Components, and move the slider bars to Darker.
 The last steps are creating the Tenon Pins and their associated sockets. Copy the two components and move them down the red axis. With the Move Tool, pull the Rail out of the mortise. In this exploded view, place dimensions that you will need in the shop.
Here is the video.
Tim
@KillenWOOD