Online Extras for the 2016 Tool Guide
Don't miss the free online extras for our newsstand-only publication featuring top-notch tool reviews, videos, and articles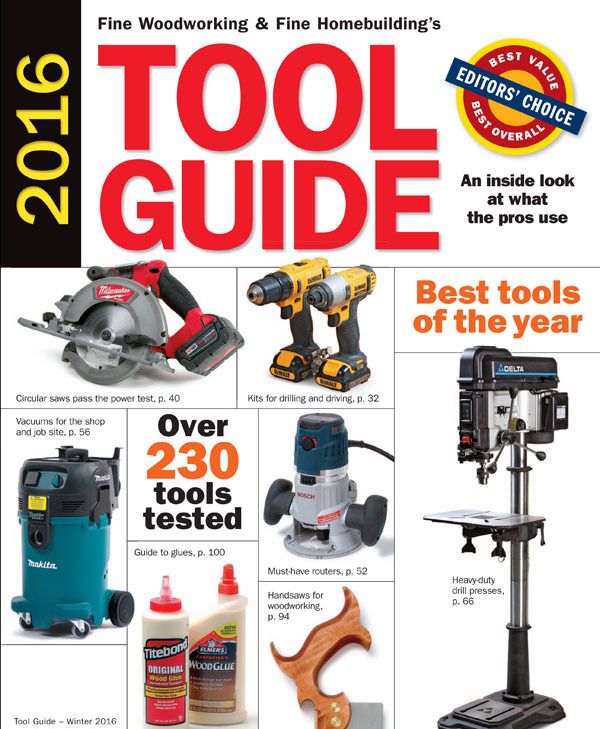 Order your 2016 Tool Guide today. (Also available as a Digital Issue on tablets)
It's the best-selling all-tool resource in America. Our annual Tool Guide has become the trusted reference for pros, non-pros, and homeowners because it delivers up-to-date tool reviews and top picks from Fine Woodworking and Fine Homebuilding editors and readers.
 
Online extras for this special issue:
Backsaw Basics
These simple exercises can transform any hopeful hand-tool user into a bonafide backsaw master.
Router Reset
Don't miss our tips for smoother, safer routing—including techniques for how to hold work, how to mount a bit securely, and how to keep those bits clean and ready to cut.
The Right Way to Resaw
Get tips from a master on how to set up any bandsaw for arrow-straight resawing. From blade selection and fence alignment to out-feed support and dust collection—it's all here.

Mastered in a Minute
Learn how to do a single building task, the right way, in about a minute.
How to Sharpen Hollow Chisel Mortising Bits
Learn to sharpen your hollow chisels for cleaner mortises.
How to Change a Bandsaw Blade
Learn how to properly install the right type of blade and say goodbye to blade drift forever.

Choose the Right Glue for Woodworking Projects
Learn about the differences among a variety of woodworking glues, and how to match the right glue with the right project.

Become an online member
Subscribe to our website to access exclusive tool videos and articles. Learn more about the online membership here.
Sharpen Your Tablesaw Skills

Unlock your tablesaw's full potential with furniture maker and teacher Marc Adams. In this Video Workshop series, Adams walks viewers through a variety of essential techniques.