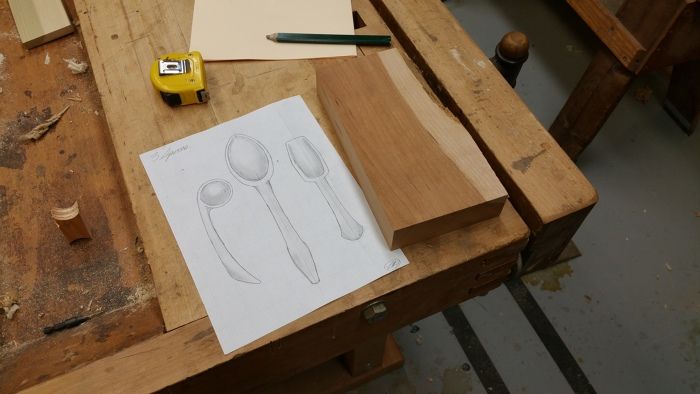 The work of Josh Nava, specifically his 365spoons endeavor from the last year, and others that I follow on social media has inspired me to take some time and get my carve on. Now, spoon carving is not something I've done but I have spent an inordinate amount of time hacking away at sticks and logs since I was little. My hope was that with a little practice and some trial and error, this could be a new way to utilize all those scraps laying around the Fine Woodworking shop.
I'll let my pictures take care of the walk-through, but I will say this: my hands hurt. I work with my hands a lot, whether it's in the wood shop or turning a wrench, but carving really beat me up. My tools were sharp, but the dry cherry I was working with required a bit of force to work and I'm thinking my next spoon will be green cut to ease up on this as well as giving me a better finished surface.
Other than the hand trauma, I had a killer time carving this. Beign able to free-shape something from wood is awesome compared to the precision of dovetails and mortise and tenon joints. If any readers have any tips or tricks for carving, feel free to reply. I'd love to hear them!
These were my quick sketches for three different spoons. I decided to start with the most traditional one, so I snooped through the FWW shop scrap pile and found this nice piece of cherry.
I cut out the two-dimensional drawing so that I could transfer it to the already squared cherry. Next time I'll transfer my outline to a piece of manilla folder so I can reuse it and not chop up my original art.
Once the bowl was roughed out, I went to the band saw to get the outlined shape close to final dimensions.
Getting the profile right was another story... I took my time and got a little wild with the weight under the end of the handle. It's nice being able to design on the fly like this.
Getting down to the spoon shape was pretty wild. Seeing it go from a completely suare-edged piece to having facets and rounds was super rewarding and by taking my time I ended at a shape I was really happy with.
Here's a top view of the final product, with just a coat of wax on it. While it's not polished and professional, I think it's a great start and I'm actually really excited to start on another.
I roughed out the blank and so that I could begin scooping out the bowl portion of the spoon while there was still a flat back on the piece.