Gallery: Jumbo Jenga from 2×4's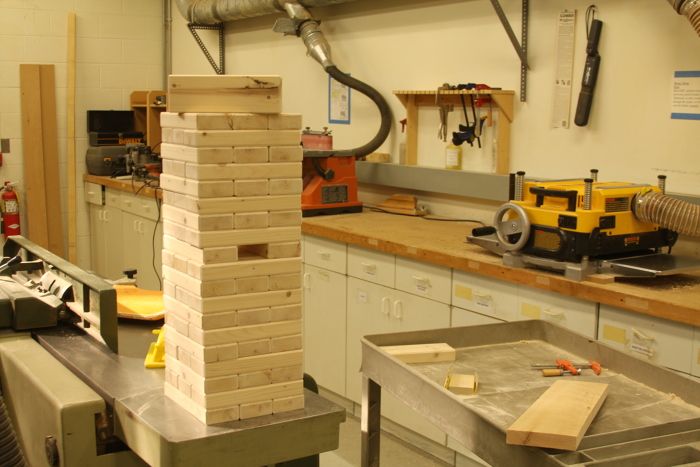 A close friend recently called to ask me a woodworking question. That question was, "Do you think you could make me an oversized Jenga set?" To which I emphatically replied, "YES."
This classic block stacking game consists of stacked blocks, arranged in crosshatched layers. Each players takes turns removing a block, and stacking it on the top of the tower. The person who makes it fall, loses. Many of the DIY Jumbo Jenga builds I saw online were simply store bought 2×4's cut to length and that's it. Seeing as this was for a good friend and I have a shop at my disposal, I decided to take it one step further.
I spent $16 on lumber from the local home supply store, plus $1 on a candy bar. Once I got to the shop, I cut down the 8-foot boards into 28 in. sections for ease of milling. I decided to have my final dimension be 1 1/4 in. thick by 3 in. wide, with 9 in. sections. After all was said and done, an hour milling and crosscutting left me with 54 of these pieces.
I then had the tedious task of chamfering all the edges, as straight off the machine the pieces were razor sharp. I decided to use the router table with a v-groove bit to save time versus hand planing. Once they were all chamferred, a quick sand with a block and they were ready to go.
Overall, the materials were cheap for this project, but it was heavy on the manual labor portion. It also gave me a chance to brush up on good milling practices and router table protocol.
Jumbo Jenga, shown on our 16 in. jointer bed for a bit of scale.
The 8-foot boards were cut into more managable 28 in. sections for milling.
It seemed milling would never end. I had to do alot of it to remove the rounded corners from the 2x4's.
One issue I ran into, material wise, were the knots. Knots in the sides of boards would create tearout or even holes if they were pulled out by the jointer. Knots at the end would blow out completely, leaving large pieces missing like in this photo.
After crosscutting the stock into 9 in. pieces, I was left with 54 pieces total (just like the tabletop version) and a lot of routing to do...
With 2 hours spent at the router table, chamfering 12 sides on each of the 54 pieces, the set was finally finished and sits perfectly together.
An aside: one of my favorite things about woodoworking, is that the medium never leaves you unsurprised. I found this small figured section just hiding in a common 2x4. I'm happy it'll now be seen instead of hidden inside the walls.
The set in action. The precise milling meant the tower of blocks was able to remain stable for a long time...
... which led to a wonderfully dramatic mess once they fell.