From a Judge's Perspective at the Sunshine State Fair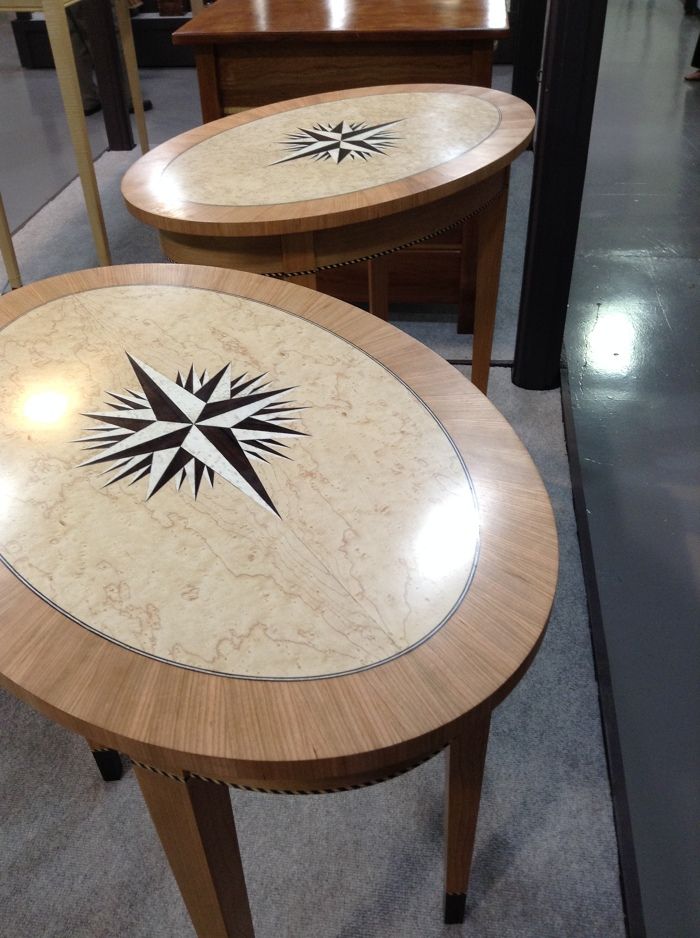 Last year, I was asked to judge the woodworking competition at The Florida State Fair, to be held in the middle of winter. I live in the Finger Lakes Region of New York State, so it was an easy and enthusiastic "YES!" But when I arrived to see the high level of handiwork, it was nothing but a Nor Easter storm of high level work.
In the 44 entries, there was an array of styles in two major categories: basic and advanced. Basic included new entrants and those who had not yet won any ribbons. Advanced is for anyone who had already won a ribbon or opted in. The advanced category was also split into two sections: Accessories and Furniture. All these categories were further broken down into approximately 20 sub-categories such as tables, seating, jewelry boxes, and the like.
My job was to score each piece on five criteria: design, material selection, workmanship, finish, and complexity, pick the Best in Show, and openly critique each piece. This blizzard seemed a daunting task.
The Florida State Fair Woodworking Event, held in Tampa, Florida, has been judged for 29 years by prominent artists such as Sam Maloof, Tage Frid, and Michael Fortune, and I was honored to be a part of it. There are three local woodworking clubs that consistently enter, as well as independent entries from across the state. Primarily, participants are hobbyists, amateurs, and weekend warrior woodworkers, but by the looks of many of the pieces, one would think they are full time professionals.
The first phase of judging was a private process, and difficult at best. I've judged a number of shows, including the AWSF in 'Vegas to my local woodworking organization, and this matched the best of them. To keep the scoring consistent in such a wide field, I found it easier to select the top pieces and award the Best of Show first with the highest scores (1-10 ratings in five categories) and then continue down from there.
Selecting Best in Show in each category was the most difficult, as there was excellent work and many finalists in each category. Once I narrowed it down to a few choice pieces, I had to look close for flaws, which was also challenging because on two or three, I couldn't find any.
I approached this dilemma by making a subjective aesthetic decision. I looked for consistency in style, balance, line, etc. These are subtle distinctions, but after careful inspection, I was able to determine the winners, with a few close calls. This process took 3½ hours.
The next day was the real challenge: how to courteously point out flaws without insulting the makers. I decided to explain the imperfections I saw, some obvious like open joints and misalignments and others not so, like poor finishing on the underside of drawer bottoms and misaligned screws (all slotted screws should be aligned in the same direction),  then I offered solutions and technical advice on how to improve the work. The audience, makers, spouses, and laymen were open and appreciated this approach. The review and award ceremony took four hours-no one fell asleep and everyone made it home in time for the Super Bowl (and what a game!).
In general the most common flaw was poor finishing, and with Florida's high humidity it was understandable. I also shared general resources, suppliers, and fundamental information to help resolve this and other problems.
I always enjoy sharing my experience and believe this is how woodworkers can learn, improve and grow as individuals, and as a community. I was honored to participate in this year's event and applaud all the woodworkers for entering. Thank you for offering me the opportunity to catch a few rays while back home it was 10 degrees in a two foot blanketed snowstorm. And the only woodworker who got burned was me-I forgot my sunscreen.
Andrew Gibson - Best of Show in the Advanced division - Tables

   William Cowan's Humidor won Best of Show in the advanced division - accessories

 Wall cabinet by Raul Darriba won best of show for the Basic Division

Arthur Falcone's unique jewelry box was a very close second for Best of Show which earned him a 1st Place ribbon
A Krenov Cabinet by Ed Goldberg gained him a 3rd place ribbon
A beautiful American Craft style of which I do not have his name or ribbon place - please chime in if any one knows and give him proper credit. so sorry
suspected angry contestant