Tool Test: Oscillating Spindle Sanders
The best tool for sanding curved work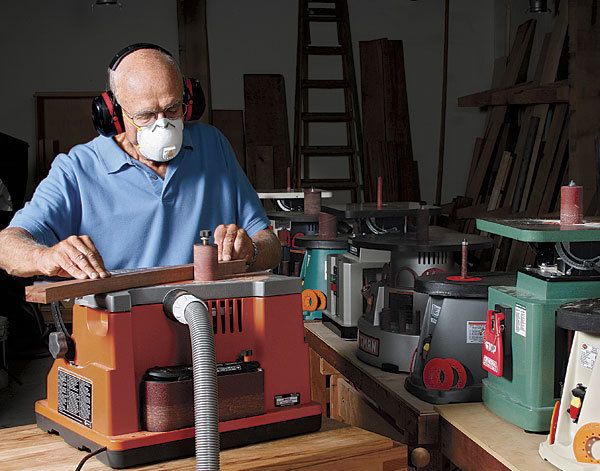 Synopsis: For sanding the edges of curved pieces and cleaning up pattern-routed work, oscillating spindle sanders are handy machines. The movement of the sanding drum helps to remove stock more quickly and leaves a smooth surface. Some models offer a tilting table. For this review, we looked at 11 benchtop models to see which ones stood out. Key features are a solid table that keeps the work perpendicular to the spindle, good dust collection, and ease of use features such as toolless spindle changes and storage for spindles, inserts, and tools.
Models tested include: Craftsman 25100, Delta SA350K, Delta 31-483, General International 15-220M1, Grizzly G0739, Jet JBOS-5, Powertec OS-1000, Ridgid EB 44242, Shop Fox W1831, Triton TSPS450, Wood River 157889.
Oscillating spindle sanders are a go-to tool for sanding the edges of curved furniture parts while keeping them square to the surface. They're also helpful when cleaning up templates for pattern-routing. The oscillating action of the spindle and sanding drum mounted to it removes stock quickly and efficiently, because it uses most of the sandpaper sleeve. Some models even offer a tilting table if you want the edge Spindle Sanders The best tool for sanding curved work By William Peck at a consistent angle. As with other woodworking machines, there are both floor models and benchtop models. The most economical option for a home shop is a benchtop unit, so I looked at what's available to see which ones stand out.
Big table is better
The table on an oscillating spindle sander, usually cast metal, supports the work. To get consistent results, the table must be flat and perpendicular Tool Test to the spindle. A bigger table is better because there's more area to help support your work whether working front to back or side to side. When considering size, it's important to also think about spindle placement because the more table there is in front of the spindle, the more room there is to work.
Some tables tilt so that you can sand at an angle along a curve. The tables on the Delta 31-483, General International, and Jet sanders tilt around the spindle, where the Ridgid tilts on the portion of the table in front of the spindle.
Dust is the enemy
These units can produce a lot of fine dust, a nuisance and a health hazard if not handled properly, so dust collection is a prime concern. When hooked up to a Bosch VAC090A vacuum, most of the units I tested collected 90% of the dust or more.
Photo: Dillon Ryan
For the full article, download the PDF below:
View PDF