Lie-Nielsen - Lie-Nielsen No. 51 Shooting Plane
Mounted at an angle to the sole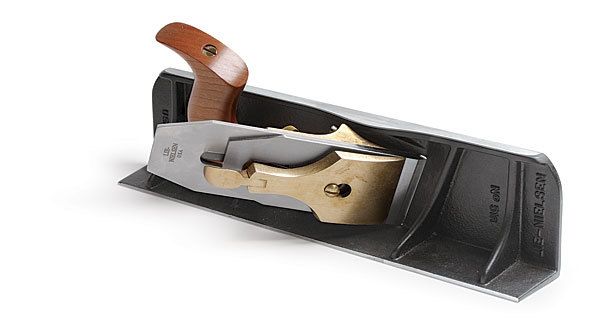 Shooting Plane Worth Every Penny
A shooting board is a tremendously useful bench jig, especially when fitting drawer parts, but it's only half the equation. You also need a plane. Just about any bench or block plane can do the job, as long as you can hold it on its side comfortably.
I've used many different planes for shooting, but none of them can compete with Lie-Nielsen's No. 51 shoot board plane. Everything about it is right. I was most impressed by how comfortable it is to use. It has a standard bench plane tote behind the frog, and I could easily wrap my entire hand around it. And because it's mounted at an angle to the sole (which is vertical on this plane), your hand, wrist, and arm are at a comfortable angle when using the plane.
The plane also has a huge sidewall, so it took no effort to balance and keep the blade square to the shooting board; that allowed me to put all of my focus and muscle into pushing it through the cut. Here's something else I loved: The No. 51 weighs more than 9 lb. All that heft allows it to power through end-grain cuts. The Bedrock-style frog is skewed 20°, which made adjusting the blade depth much easier than on standard bench planes, where the adjustment wheel is squeezed in between the frog and tote. This plane is a joy to use because it does its job extremely well.