How to Engineer a Chest of Drawers
How to build a case that will stay square and stable through the seasons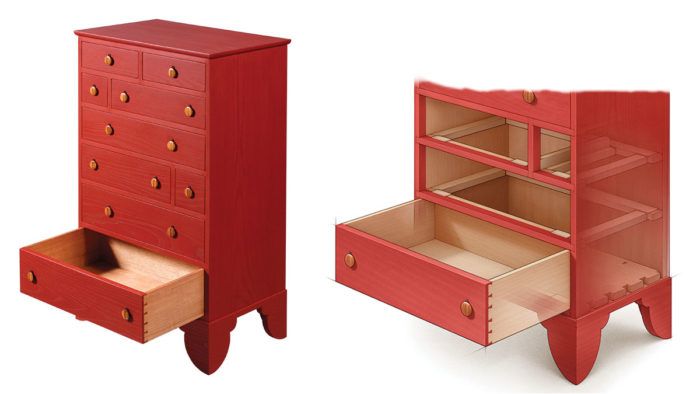 Synopsis: Even if you build your projects to accommodate wood movement and choose the best materials for each part, there will be times when you'll need to be more exact in your estimates. Armed with these handy charts and formulas, you'll be able to estimate how any given piece will expand and contract with seasonal changes in humidity.
A solid-wood chest of drawers is one of the great feats of furniture design, providing square, stable pockets for drawers while accommodating big swings in seasonal humidity and the resulting swelling and shrinking of every component.
For me, success means drawers you can close easily by pushing on just one corner in any season, from the muggiest summer to the driest winter. Achieving this lofty goal is the culmination of many thoughtful decisions and careful steps throughout the designing and building process. I've been studying and refining traditional construction for almost 40 years, and here I'll show you the best ways I know to make the chest itself. In the next issue, I'll finish the story, showing you how to make drawers just as efficiently, and fit them precisely to their openings.
Drawers go into tables, boxes, and more, but I'll focus here on a traditional chest of drawers with solid-wood sides. Master that, and the others are easy. I'll stick to the most common design, one with an overhanging top and a flat front, but I'll give options for two types of base treatments. These construction approaches will work for chests of many sizes and styles, from traditional to contemporary.
The basic idea
With solid-wood sides, tops, and bottoms, a fine chest of drawers presents two major challenges. The first is the obvious back-to-front shrinking and swelling of the case. Second, because the inside is closed off to air circulation, wide panels tend to cup inward or outward from uneven moisture exchange, potentially pinching the drawers.
The main challenge is creating the drawer pocket. The big issue here is how to install the drawer runners, which run front to back (creating a cross-grain Engineering a Chest of Drawers BY GERALD CURRY situation). Their length won't change much, since wood hardly expands or contracts in that direction, but the depth of the case will change significantly—moving up to 3⁄8 in. on a typical chest at different times of the year. Traditional woodworkers dealt with this in a variety of ways, but I use web frames, a 20th-century innovation, to solve the problem.
Drawings: Christopher Mills
For the full article, download the PDF below:
View PDF