50 years of Simon Watts' work now on DVD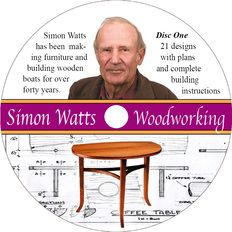 To long-time readers of Fine Woodworking, Simon Watts will be a familiar name. He was writing for the magazine back in the black-and-white days and also published the seminal book, "Building a Houseful of Furniture" (The Taunton Press, 1983).
Largely self-taught, he was born in England and now shuttles between northern California and Nova Scotia. His influences include Edward Barnsley, Charles Rennie Mackintosh and others, which gives his work a timeless appeal. Watts has also worked in boat-building yards, and of course favors wooden boat construction. 
Watts, with the collaboration of a number of publishers including Taunton Press, has put together a collection of his work on two DVD discs. The 42 projects, spanning 50 years of work, include furniture, clocks and small wooden boats. In fact, Watts is right now completing an International 14. 
If you own back issues or the FWW archives, you have can find some of his work there. And if you like what you see, consider his DVD collections, which can be found at his personal website.
Simon Watts has released two DVDs chronicling his work, which includes furniture and boats.
This paneled chest originally appeared in Fine Woodworking No. 44, Jan/Feb 1984.