Turning for Wounded Warriors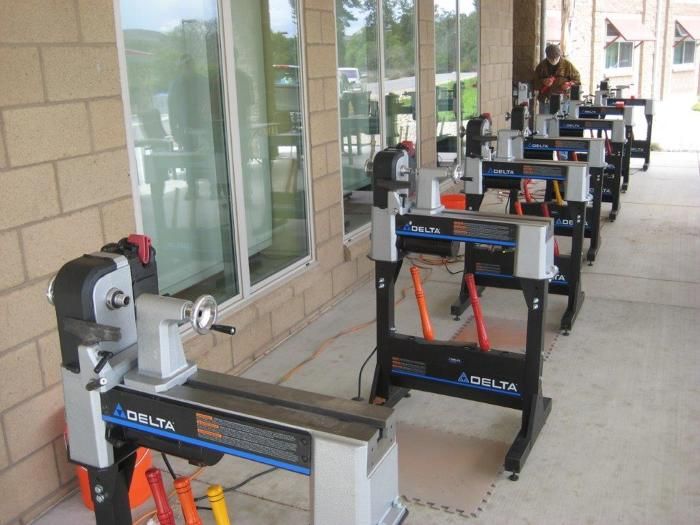 The San Diego Wood Turners have used woodworking as a healing force for veterans and Wounded Warriors for more than four years.
The SDWT's Turn Around For Vets program was started by retired Navy nurse Nan Bushley and SDWT President and retired orthopedic surgeon Ken Roth at the Naval Medical Center in San Diego, Calif. The group's mission was "to provide woodturning as a means of mental and physical therapy for our Wounded Warriors."
The program at the Naval Medical Center began with five Delta midi lathes and one lathe specially modified for wheelchair access. Volunteer instructors from the SDWT taught veterans once a week to make pens, bottle stoppers, ice cream scoops, and basting brushes for their friends and loved ones.
The members of this program found difficulty in utilizing traditional turning tools, such as gouges and skews. So the SDWT switched to carbide-tipped tools from Easy Wood Tools. The carbide-tipped tools provided an easier-to-master method of turning that allowed the veterans to go home after each session with a completed project.
The original program at the medical center became so popular, the SDWT decided to secure a Woodturning Center location in order to provide services to more veterans. This center allowed the organization to acquire more midi lathes and a few more wheelchair accessible lathes as well.
As woodturning gained traction as an adjunct treatment via the SDWT's program, the authorities at nearby Camp Pendleton requested the SDWT should open a program at their facility as well. The program at Camp Pendleton continues to be a success, drawing 15 veterans a week.
All of the TAV program's funding comes from the donation of money, tools, and materials. The instructors are unpaid volunteers and vets attend this program free of charge.
Those interested in mroe informartion on the SDWT or the TAV program, or those wishing to donate, may contact Tom Lightner at 760-734-4444 or [email protected]
The SDWT's midi lathes set up outside the Woodturning Center.
Here, an SDWT member demonstrates the modified midi lathes that are wheelchair accessible. The entire unit rotates towards the user, allowing them to maintain proper form and full use of the toolrest while sitting
A group of veterans hard at work during a TAV session.
The Easy Wood Tools carbide-tipped turning tools make turning everything from pen blanks...
...to bowls like this a no-learning curve process versus traditional gouges and skews.
Volunteer instructors (from left) Jack Boggio, SDWT Founder and current President Nan Bushley, Fred Thompson, Bob Schmeiser, and Rick Olds are some of the 25 TAV volunteers that rotate through the multiple sites from week to week.