Another peek at my traveling tool cabinet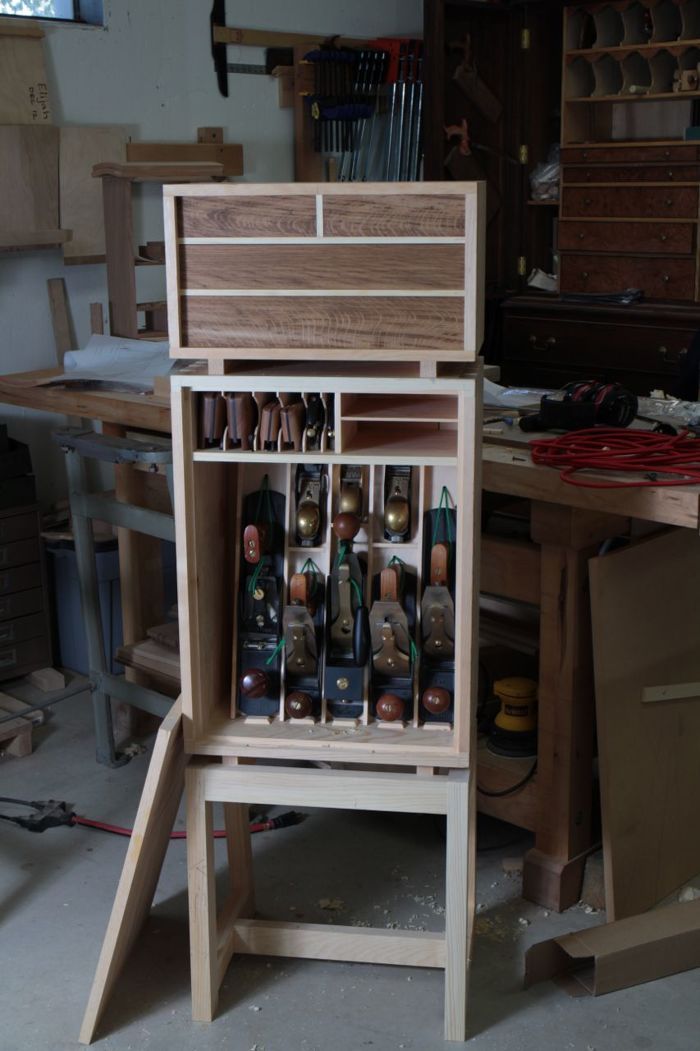 In my last blog, I showed some pictures of the traveling tool cabinet I'm making. A few weeks ago, I made the plane till for the lower box. The till is a ramp with dividers to create individual spaces for each plane. Making that part was easy. It was harder to figure out a way to keep the planes tight against the till ramp during travel. I plan to move the box around in the horizontal position, without the legs. And I don't want the planes coming off the ramp and hitting one another. 
If this were just a wall hung till that would never move, I could use loops of cord to keep the planes in place. They would hook around the tote (or the knob, depending on the orientation of the plane) and keep it from tilting out and falling. The trouble with that setup is that the loops must be pretty large to fit over the tote/knob, and the plane can still come off the till a bit. I want my planes tight to the till. After a bit of thought, I knew just what to do. I dug out some old toggles from my backpacking supply box. You can buy toggles like these many places, like REI, and Amazon. Take a look at the photos above to see how I did it.
A look inside. The front panel is off both boxes in this photo. The bottom box contains the plane till. I still need to make two little drawers for it. The drawer fronts in the top box are English brown oak.
A closer look at the till. This gives you a better idea of how I arranged the planes. Little wooden blocks keep the toes in place. The space to the left of the planes will hold backsaws.
This plane ain't moving. The toggle is snug against the plane tote, preventing the plane from lifting off the till.
Loose loop. I used some green cord and a toggle. Here the toggle is positioned so that the loop is big enough to slip over the tote. The other end of the cord goes through a hole in the till, and it has a figure eight knot tied into it, so that it won't come back through the hole.
Tighten down. Pinch the toggle and pull on the loose ends of the cord. It takes two hands but my other hand is operating the camera in this photo (sorry).
Toe detail. These are just chamfered blocks of white pine glued to the box case.