Inspiring furniture from annual Texas competition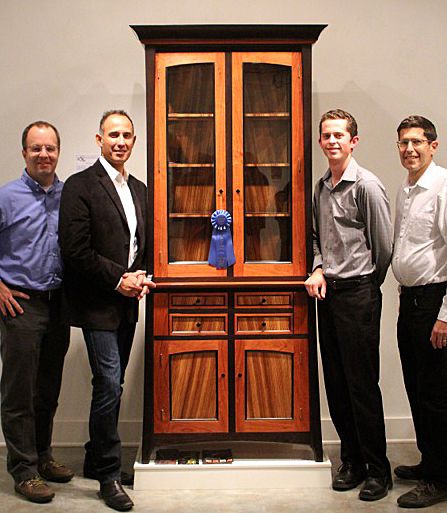 If you are a furnituremaker who is tired of putting on snow boots to tread out to your woodshop, you could do a lot worse than Texas as a retirement spot. Attraction No. 1 would be the annual furniture competition in Kerrville, nestled in the heart of the "Hill Country."
Going strong in its 15th year, the Texas Furniture Makers Show welcomes the best from this big state and beyond, giving Lone Star craftsmen a chance to show off their work and learn from each other. What really makes it great is the gorgeous Kerr Arts & Cultural Center, a top-drawer gallery space, complete with workshop areas and a gift store.
This was my third year judging, and I really like the format, which include a judges' critique on the morning after the award ceremony, where thick-skinned woodworkers volunteer for feedback on what they could do better next time. Advice is always respectful and constructive, and next time I go, I'm going to see if I can photograph any of the pieces being critiqued. I think the advice would be invaluable to FWW readers.
Anyway, I had a great time judging with Jeff Miller, a frequent FWW author from Chicago; and Omar Angel Perez, an artistic woodworker from Houston, whose latest creations are saw-blade wrapped stilletto heels, sported by Lady Gaga no less.
These are my own personal favorites from the show. For a few more of the winners watch the Readers Gallery in FWW magazine. For the full list of winners, check back at the show's website in a few weeks.
Best in Show was the best news of all, going to Timothy Anz, who is just 20 years old. His training is in painting, and this gorgeous display cabinet is his first piece. Best debut I've ever seen, for sure! From left are me, Omar Perez, Timothy, and Jeff Miller.
Jim Wallace of Cedar Park took home a top prize for his Ipswich Lace Buffet, with its built-in marquetry table runner that fools the eye.
I love Jim's elegant choice of woods and patterns. This isn't the first piece he has built like this, and he really has the techniques down, including strong miter joints where the "fabric" hangs over the edge.
Danny Kamerath of Dallas also took top prize in his category for this cabinet that he calls Lily (With a Slight Chance of Rain). Danny is one of the more fearless woodworkers I know, not afraid to combine gridwork with organic elements, and a few surprises on top.
A closer look reveals a few amazing raindrops. Look for slightly larger versions of these "splash" bowls on the next back cover of FWW!
Randolph Secrest of Spicewood, Texas, took home one of the show's top prizes for this gem of a jewelry cabinet, made of local mesquite.
Everything on this chest was immaculate, from the drawer and door action to the nicely appointed interior spaces.
Lou Quallenburg of Llano won his latest prize of many for another of his distinctive display tables, made from a finely worked slab of mesquite.
Lou doesn't just plane the flat surfaces and strip the bark; he also carves beautiful edge details that seem like they were meant to be.
A couple decades ago, local patrons in Kerrville converted the old post office into the beautiful new Kerr Arts & Cultural Center.
The Texas Furniture Makers Show marked its 15th anniversary this year.
Randy Matthews of Dallas won a special FWW award for his version of Mike Pekovich's hayrake table, which was in FWW about a year ago. Matthews designed benches to go with the table, doing a great job of echoing the style. Everything is made from pine that he reclaims from old church pews.