Legendary teacher Will Neptune wins Cartouche Award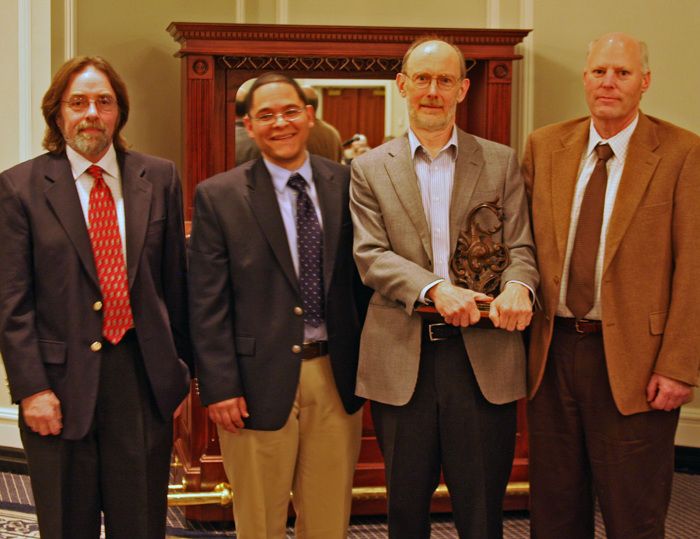 Beloved North Bennet Street School teacher and frequent FWW contributor Will Neptune is the latest recipient of the Cartouche Award, given for advancing the craft of traditional woodworking. Neptune is a more-than-worthy winner, known as much for his influnece on his students as for his own masterful furniture.
The Cartouche Award is presented each year by the Society of American Period Furniture Makers, at their annual banquet at Colonial Williamsburg's conference, Working Wood in the 18th Century. The intention is to recognize a lifetime contribution, and it is the most prestigious award of its kind.
Everyone was moved when Will's current shop partner, Freddy Roman, read a tearful tribute to his mentor, citing Will's brilliance, generosity, and compassion. Roman also read a letter from Steve Brown, lead instructor at North Bennet Street School, where Will launched the careers of dozens ofmasterful makers. Brown told stories I have heard again and again from former NBSS students, such as how Will stayed late every night, as long as students still had questions, and how he solved problems that seemed insurmountable. 
Neptune's genius is well represented in the pages of FWW, where his articles on essential furniture anatomy are still unmatched.
Neptune receives the Cartouche award. To his right is former student, John Rexroad, and on his left is Freddy Roman, his current shop partner, and Bob Van Dyke, who runs the Connecticut Valley School of Woodworking, where Neptune sometimes teaches.
Freddy Roman, extremely accomplished in his own right, gave a tearful tribute to his shop partner and mentor.
Will showed some of the pieces he made as a student at North Bennet Street School in the 1970s.
Will showed as much of his student's work as his own, explaining that he loves teaching above all else, and feels a responsibility to pass down the generosity he was shown. This is a ladies work table that John Rexroad built only a few years after taking up the hobby.
Neptune's instructors at North Bennet represent how furnituremaking was changing in the 1970s. George Fullerton came from the world of industrial workshops in Boston as big a a city block, where the new guy was thrown in between the benches of old European craftsmen. And a young Phil Lowe represented the new way woodworking was taught, at schools, and was about to head out to set up a one-man shop, which inspired Neptune to do the same.